Need ideas for a fun treat for movie night or for a kids' birthday party? You can't beat unicorn popcorn.
Unicorn popcorn is colorful, fun popcorn that you decorate with more than just popcorn kernels, including sprinkles, tiny marshmallows, small candies, and anything else you think would taste good.
Unicorn popcorn can be made in any color you like, and you can start with just plain popcorn because the items you add to it will add tonnes of flavor.
Unicorn Popcorn Ingredients List
Product
Franklin's Gourmet Popcorn
Product
Franklin's Gourmet Popcorn
Last update on 2023-12-05 / Affiliate links / Images from Amazon Product Advertising API
What Flavor Is Unicorn Popcorn?
Unicorn popcorn starts with plain popcorn then you add all sorts of ingredients to make it taste great and look like a unicorn threw up!
The fun part is it's entirely up to you how to make unicorn popcorn. While most recipes use candy melts and sprinkles, you can use tiny candies or marshmallows if you like. Just use your creative side to come up with something unique, and remember to use as many colors as you can to make it sparkle!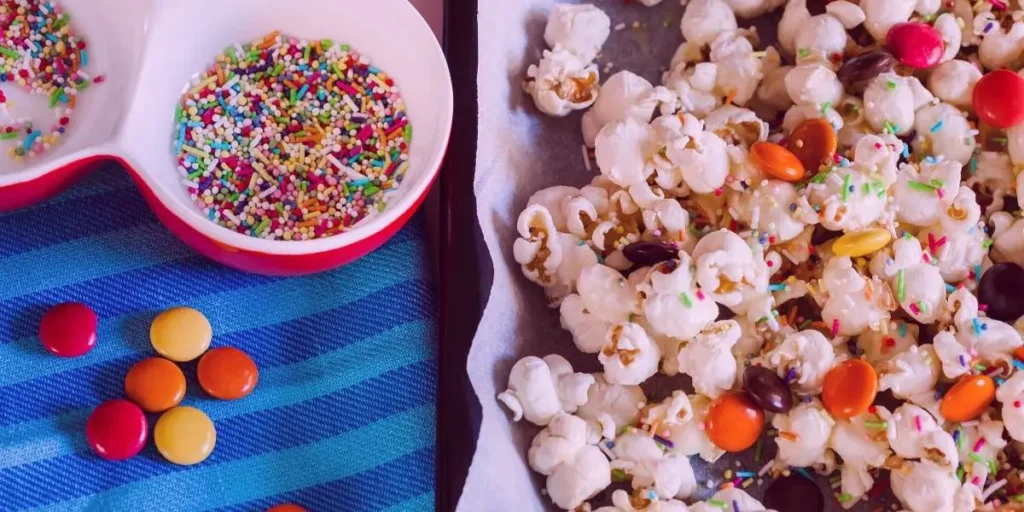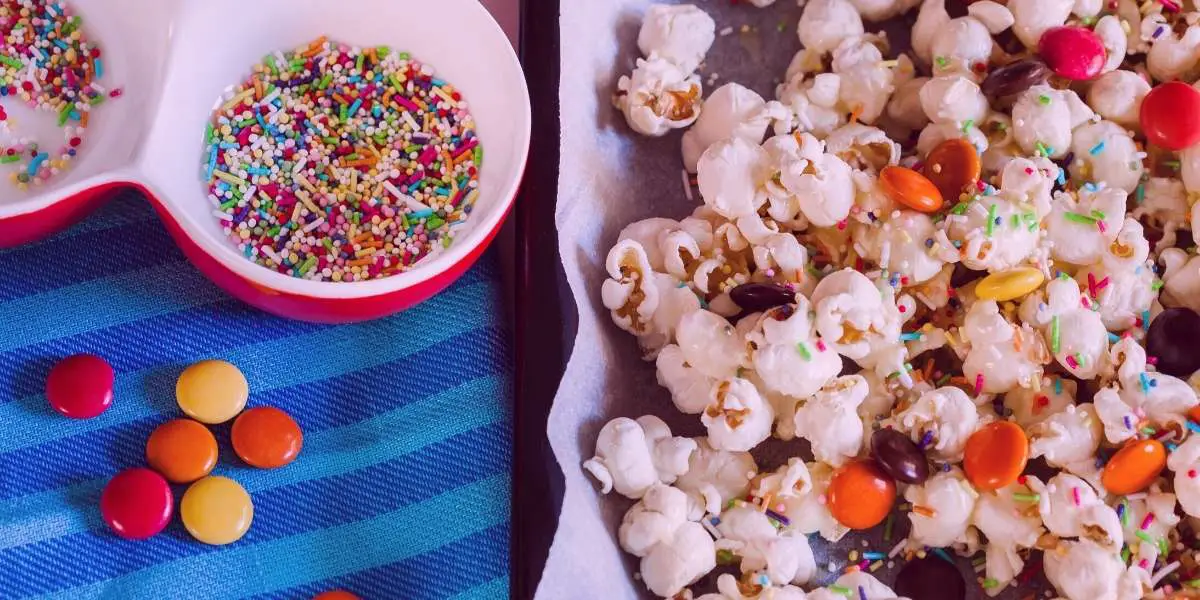 5 Step Guide to Making Unicorn Popcorn
What You Will Need
Popcorn:
Chocolate and Food Coloring:

1 cup white chocolate chips or candy melts
Food coloring (gel or powdered) in various colors for a vibrant effect

Optional Toppings and Decorations:

Sprinkles, edible glitter, or colored sugar for added sparkle
Mini marshmallows, M&M's, or other desired toppings
Edible unicorn horn decorations (if available)

Utensils and Equipment:

Large baking sheet
Parchment paper or silicone mat for lining the baking sheet
Microwave-safe bowl for melting chocolate
Spoon or piping bag for drizzling chocolate
Refrigerator (optional for faster cooling and hardening of chocolate)
To begin, pop 8 cups of popcorn using your preferred method. You can use an air popper, stovetop, or microwave popcorn. Ensure that the popcorn is fully popped and remove any unpopped kernels. Spread the popped popcorn on a large baking sheet lined with parchment paper or a silicone mat.
In a microwave-safe bowl, melt 1 cup of white chocolate chips or candy melts. Heat the chocolate in short intervals, stirring in between, until it becomes smooth and fully melted. If you want to create different colored popcorn, divide the melted chocolate into smaller bowls.
If you wish to have colored popcorn, add a few drops of food coloring to each bowl of melted chocolate. Stir well until the desired color is achieved. You can opt for pastel shades or go for vibrant rainbow hues. Feel free to use multiple colors for a marbled effect.
Drizzle the colored chocolate over the popcorn on the baking sheet. You can use a spoon or a piping bag to create random patterns or more defined designs. Get creative and have fun with the drizzling process. If desired, sprinkle edible glitter, colored sugar, or your favorite sprinkles over the popcorn to add extra sparkle and visual appeal.
Allow the chocolate to cool and harden completely. You can place the baking sheet in the refrigerator for faster setting. Once the chocolate has hardened, gently break apart any large clumps of popcorn. Transfer the unicorn popcorn to a serving bowl or divide it into individual bags for a delightful and magical treat. Serve and enjoy!
In addition to the basic unicorn popcorn recipe, there are countless variations you can explore to customize this whimsical treat further. Let your creativity soar with these delightful alternatives:
Unicorn Popcorn Recipes – Easy to Make and Easy to Enjoy
Recipe #1
Pop six cups of air-popped popcorn and when it's done, spread it out on two different baking sheets. With pink food spray (if you can't find the spray, melt three tablespoons of coconut oil and add a few drops of red food coloring), spray the top of the popcorn, then turn it over and spray the other side. You'll want to spray as much of each kernel as possible.
Let the popcorn dry.
Take one-half cup of pink candy melts and one-half cup of blue candy melts.
Put each color in a small microwavable bowl and heat each of them for 25 seconds.
Stir, and reheat as needed. If it's having a hard time melting, add in about one-half teaspoon of coconut oil so the candy melts better.
Next, drizzle half of each color candy melts over the popcorn.
Then sprinkle with pink and blue sprinkles. At this point, you'll need to reheat the candy melts, then toss the popcorn so that the other side can be coated with a second drizzle.
Recipe #2
Preheat a large pan, using your medium-high heat setting. Add one-fourth cup of butter-flavored popcorn oil, two cups of popcorn kernels, and one teaspoon of sea salt.
Put the lid on your pan and shake it occasionally as it pops. When the popping starts to slow down, remove the pan from the heat and set it aside to finish popping. Next, spread just a thin layer of popcorn on a baking sheet.
Next, you'll be drizzling melted candy over the popcorn, then throw some sprinkles on. You'll do this in layers, with each layer of popcorn receiving candy melts and sprinkles. Here's a fun way to layer the order:
Pink candy melts
Multicolored unicorn sprinkles
Blue candy melts
Multicolored unicorn sprinkles
Multicolored unicorn sprinkles
You'll have to make sure each color of the candy melts entirely before you drizzle it on the popcorn. The melted candy also helps the sprinkles stick to the popcorn better. In addition, you can use candy melts and sprinkles in any color you like.
You can choose school colors, rainbow colors, a child's favorite colors, or just single colors such as pink, green, yellow, and so on. Always let the popcorn cool off completely before you eat it.
Recipe #3
This recipe is a little different because you'll be using Sixlets candies instead of sprinkles. Pop enough popcorn to fit in a large bowl. You can use microwave popcorn or cook your own on the stove or with an air popper.
Use three to four different colors of candy melts and three to four colors of Sixlets candies – preferably the same four colors. After the popcorn is in the bowl, melt the candy melts and sprinkle each color over the popcorn, mixing the bowl and tossing the popcorn together after each color.
After the colors are sprinkled over the popcorn, toss the popcorn one more times to get the melted candy more evenly spread.
When you're done, sprinkle all of the Sixlets candies over the top of the popcorn and let it cool before you eat it.
Recipe Formula
As you can see, most unicorn popcorn recipes follow the same basic steps – you might also like our article on how to make rainbow popcorn.
You simply pop your popcorn – the plainer, the better – sprinkle melted candy melts on top of the popcorn, then top everything off with sprinkles or candies before letting it cool down so you can eat it.
You can place the candy melts in the same popcorn or use a different color of candy melts for each layer of popcorn. It's really up to you how much sparkle you want to add!
Tips for Making Great Unicorn Popcorn
If you can't find candy melts in the colors you want, no problem. All you have to do is buy white candy melts and color them yourself. If you do this, always use food coloring made just for candy because regular or even gel food colorings will not work. This is a very important tip to remember!
You'll want to use at least one-half cup of each of the candy melt colors to have enough to sprinkle over the popcorn. Many people also buy small, colorfully decorated containers to put the unicorn popcorn in because this makes it even more fun for kids to eat their popcorn.
Finally, keep in mind that you can use any color and any color theme that you like for your unicorn popcorn, including:
Mermaid unicorn popcorn, using blue, purple, and green candy melts and a special summer mix of sprinkles
Galaxy unicorn popcorn, using dark purple and black candy melts and adding specially made galaxy sprinkles
Rainbow unicorn popcorn, using candy melts in the color of the rainbow (red, orange, yellow, green, blue, and purple) and brightly colored rainbow sprinkles
FAQs Making Unicorn Popcorn
Can I use microwave popcorn for making unicorn popcorn?
Absolutely! Microwave popcorn works well for making unicorn popcorn. Just make sure you choose a plain or lightly seasoned variety that will complement the flavors and colors of the unicorn popcorn.
Can I use food coloring gel in place of powdered food coloring?
Yes, food coloring gel can be used instead of powdered food coloring. Both types of food coloring will add vibrant colors to your unicorn popcorn. Adjust the amount of gel or powder based on the desired intensity of the colors.
Can I make unicorn popcorn in advance?
Yes, you can make unicorn popcorn in advance. Once the chocolate has hardened and the popcorn is fully cooled, store it in an airtight container or individual bags to maintain freshness. It can be stored at room temperature for several days.
Can I use other types of chocolate instead of white chocolate?
Absolutely! You can use dark, milk, or even colored chocolate to create different variations of unicorn popcorn. Each type of chocolate will offer a unique flavor profile and appearance.
Can I add different toppings to my unicorn popcorn?
Yes, you can get creative with toppings! Sprinkles, edible glitter, colored sugar, mini marshmallows, chopped nuts, or even candy pieces can be added to your unicorn popcorn to enhance its appearance and taste.
How can I achieve a marbled effect with the chocolate drizzle?
To create a marbled effect, drizzle different colors of melted chocolate over the popcorn in a random pattern. Then, use a spoon or toothpick to gently swirl the colors together without fully blending them.
Can I use natural food coloring for unicorn popcorn?
Yes, you can use natural food coloring options like beet juice powder, spinach powder, or turmeric to achieve natural and vibrant colors in your unicorn popcorn. Keep in mind that natural food coloring may result in slightly different flavors or textures.
Can I make a smaller or larger batch of unicorn popcorn?
Absolutely! The recipe can be easily scaled up or down based on your needs. Just adjust the quantities of popcorn and chocolate accordingly while maintaining the desired chocolate-to-popcorn ratio.
A Ridiculously Fun Treat
Unicorn popcorn is not only delicious but it's a tonne of fun! This colorful treat can be as unique as you want it to be because you're not just limited to candy melts and sprinkles.
Try all types of small candies, tiny marshmallows, red hot candies, nonpareils, small round candies, confetti sprinkles, sprinkles made out of fine sugar, and even sugar sprinkles that come in many different shapes. If you browse online or at a local party or craft store, you can find even more choices that will make each batch of unicorn popcorn even more special than the last.
If you've never tried making unicorn popcorn, you owe it to yourself to give it a shot. It's great for parties, movie nights, or any night that you just feel like having a special treat!
Check out these other popcorn recipe ideas.