The only thing more exciting than making rainbow popcorn is eating it. Whether you're a kid or a grownup, colorful popcorn is just plain fun! The best part is that it isn't difficult at all to make, in part because you can use just about any type of popcorn you like.
There are a few variations in the recipe, depending on the type of popcorn you like, but other than that, it's super easy to make this gorgeous, fun, colorful popcorn!
You can use it for a kids' party, for Pride month, or for those days when you need a little cheering up, and you feel as though you could use a little more color in your life!
Rainbow Popcorn – What You Need
Ingredient
12 Color Cake Food Coloring Set
Nutiva Organic Cold-Pressed Virgin Coconut Oil
Diamond Crystal Kosher Salt
Hamilton Beach Electric Hot Air Popcorn Popper
Ingredient
12 Color Cake Food Coloring Set
Ingredient
Nutiva Organic Cold-Pressed Virgin Coconut Oil
Ingredient
Diamond Crystal Kosher Salt
Ingredient
Hamilton Beach Electric Hot Air Popcorn Popper
Last update on 2023-12-05 / Affiliate links / Images from Amazon Product Advertising API
Quick Guide to Making Rainbow Popcorn
Gather the Ingredients and Supplies: Before you begin, make sure you have all the necessary ingredients and supplies. You will need popping corn kernels, cooking oil or butter, salt, food coloring in various colors, a large bowl or paper bags for mixing, a popcorn popper or a large pot with a lid, mixing spoons, and microwave-safe bowls or cups if you prefer the microwave method.
Prepare the Popcorn: If you have a popcorn popper, follow the manufacturer's instructions to pop the popcorn. Heat a few tablespoons of oil or melt some butter over medium heat if you're using a pot. Add a few popcorn kernels to the pot, cover it with a lid, and wait for them to pop. This step helps you determine if the oil or butter is hot enough. Once the test kernels pop, remove them from the pot and add the remaining popcorn kernels. Cover the pot with the lid and shake it occasionally to prevent burning. Keep heating until the popping slows down. When the popping has almost stopped, remove the pot from the heat and let it sit for a minute to allow any remaining kernels to pop.
Divide and Color the Popcorn: Divide the popped popcorn into separate bowls or paper bags, depending on the number of colors you want to use. In each bowl or bag, add a few drops of food coloring. Start with a small amount and gradually add more if needed. Remember, a little goes a long way, so start with a conservative amount and adjust as desired. Mix or shake the popcorn vigorously to evenly distribute the food coloring. Continue mixing until you achieve the desired color intensity. Add more food coloring if necessary.
Let the Popcorn Dry: Spread the colored popcorn out onto a baking sheet or parchment paper in a single layer. Make sure the popcorn is evenly distributed and not clumped together. Allow the popcorn to air dry for about 30 minutes to an hour. This drying time helps the food coloring set and prevents it from transferring to your hands or other surfaces.
Combine and Enjoy: Once the colored popcorn is dry, combine the different colors together in a large bowl. Gently mix them to create a vibrant rainbow effect. If desired, sprinkle some salt over the popcorn for seasoning and toss it gently to distribute the salt evenly. Finally, immediately serve your homemade rainbow popcorn or store it in an airtight container for later enjoyment.
What You Need to Do First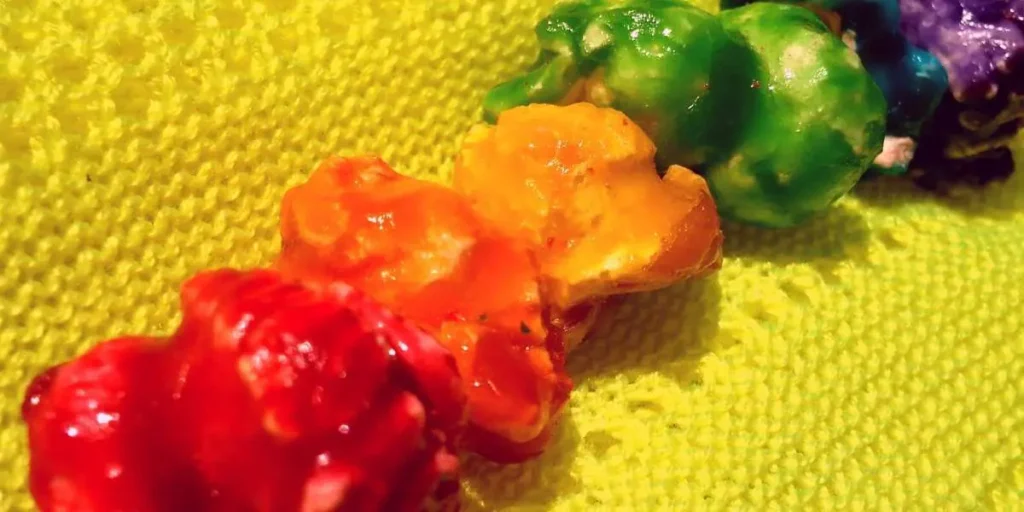 The first thing you need to do to make rainbow popcorn is to make the popcorn. For this, you can either make some microwave popcorn or pop some kernels in a pan with a lid. It's best not to use any type of sweet microwave popcorn because you'll be adding sugar to the popcorn after it's made, which means that it might be too sweet once you're done.
If you need help with how to make popcorn at home, check out our article.
Whatever the quantity is that you make, keep in mind that you'll need about six to eight small portions to work with. This means that if you're cooking corn kernels in a pan, you'll need to start with about one and a half cups of kernels. After all, you don't want those portions to be too small to work with.
Always make the popcorn according to directions, then let it cool for a while. After the popcorn is popped, that's when the fun starts. Here is where you'll color all of the cooked popcorn so that you can mix them together afterward for a brightly colored, fun treat.
Making the Popcorn Different Colors
Once you're ready to color the popcorn, find some containers, which can be sealable bags or jars with lids. Just make sure that whatever you use is able to be closed or sealed entirely so that it is airtight.
You'll take regular white sugar and color it with food coloring. You can make the six "official" colors of the rainbow, or those six colors plus two more. It's up to you. The six rainbow colors are:
Red
Orange
Yellow
Green
Blue
Purple
If you choose eight colors, you can go with the six rainbow colors and two additional ones. You might also have to mix colors to get some of the colors of the rainbow; for instance, you can mix red and yellow to get orange, blue and yellow to get green, and red and blue to get purple.
Purple can be tricky because you won't be using the same amount of red and blue. You'll need more blue than red, so keep that in mind before you start mixing up the colors.
To make the sugar mixtures, you'll want three tablespoons of sugar for each color you want to make. So, if you're just going to make the six rainbow colors, you'll need 18 tablespoons of sugar (3 x 6 = 18), and if you make eight colors total you'll need 24 tablespoons of sugar (3 x 8 = 24).
Each sealable container will get three tablespoons of sugar. You'll add either a few drops of liquid food coloring or just a pinch of gel food coloring to that sugar. In many cases, you can find these food colors in colors such as orange, green, and purple, which means that no mixing of colors will be necessary.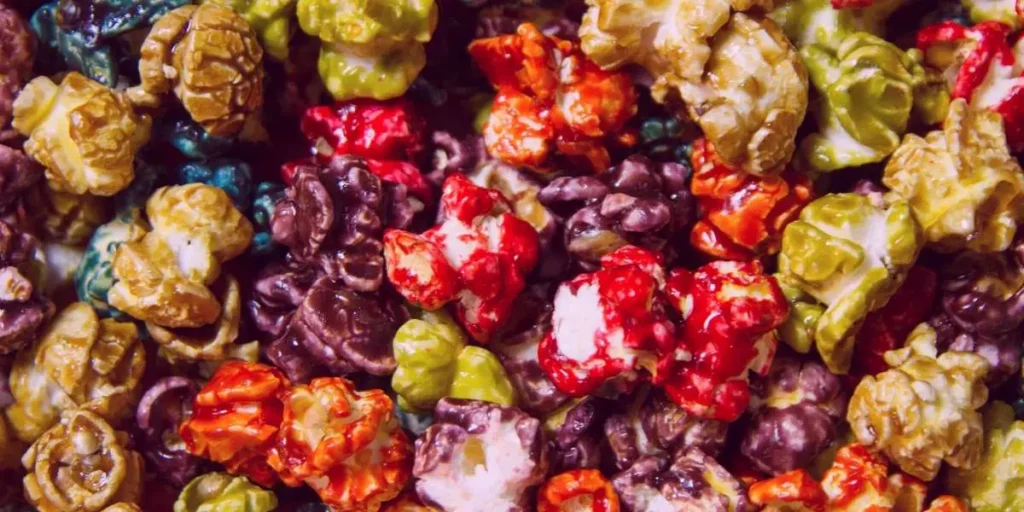 Once the food coloring is added to the sugar, knead and/or shake the sugar mixture until the color is nice and even. If you need to, you can add another drop or two of food coloring, such as if you want a darker or brighter color.
Take your time kneading/shaking the sugar mixtures because you want them to come out just right. It isn't a difficult task, but you do have to knead them until all of the sugar is coated with the food coloring.
To start coloring your popcorn, do the following:
Mix one color (three tablespoons) of the sugar mixture with one teaspoon of water
Heat in a saucepan over medium heat
Wait until it has melted but DON'T stir the mixture
Once it's melted completely (DON'T burn the sugar), take it off of the stove
When you remove it from the stove, wait until the sugar turns to liquid, then mix two handfuls of popcorn into the liquid. Let the colored popcorn cool on a plate or baking sheet. If the popcorn sticks together while submerged in the sugar mixture, don't worry; you can break it apart once the popcorn is cool.
Go ahead and do the same thing with the rest of the colors, but make sure that you use a clean pan every time. In the end, you'll have either six or eight piles of colored popcorn, depending on the number you desire.
Check out how to make caramel popcorn at home.
Another Recipe That You Might Enjoy
There are numerous recipes for rainbow popcorn, and if you'd like to access one that some people consider a little easier, follow the directions below.
For 10 cups of cooked popcorn, you'll need the following:
Take a baking sheet and line it with parchment paper. Then, divide the sugar evenly between six bowls (two tablespoons per bowl). Add one or two drops of each food coloring to the sugar in the six bowls. Using six different forks, stir each bowl with a fork until all of the colors are blended well and the sugars look like sand.
You can use regular food coloring, but the colors in gel food color tend to be more stable. And remember that with gel food coloring, a little goes a long way, which is why you only need to add one or two drops of coloring per bowl.
Next, take a saucepan with a lid and add one teaspoon of coconut oil and two popcorn kernels. Cover the saucepan and turn the stove on medium-high heat. When the kernels pop, reduce the heat to medium, then add two tablespoons. of popcorn kernels and one bowl of colored sugar.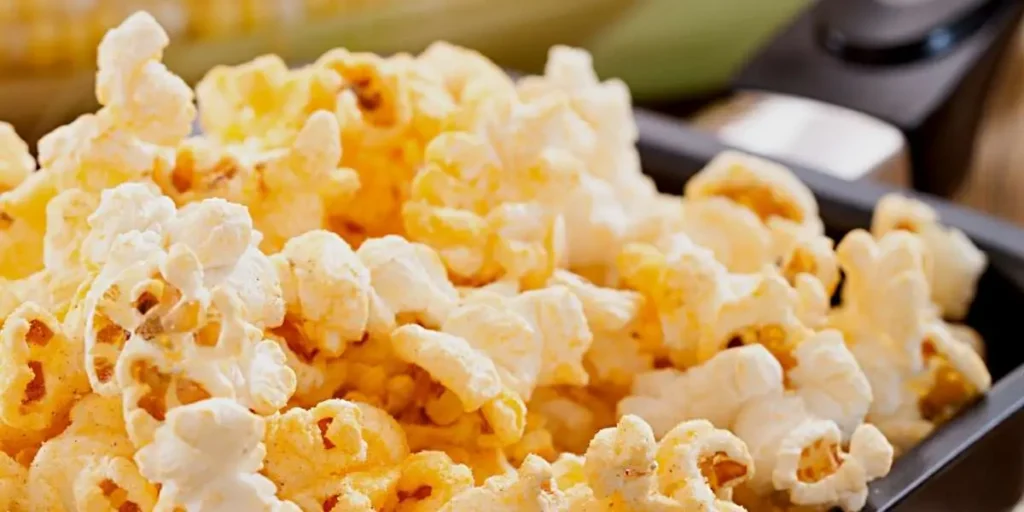 Once you add the sugar, IMMEDIATELY cover the pan, then shake it so that the kernels and sugar mixture are combined. At this point, you need to cook and shake constantly so that the sugar doesn't burn.
When you hear that the pops are more than three seconds apart, go ahead and remove the saucepan from the heat. Remove the lid carefully, keeping the saucepan away from your body, then pour the popcorn onto the prepared baking sheet.
At this point, you'll have only one color of popcorn on your baking sheet. Take a quarter teaspoon of salt and sprinkle it over the popcorn, then let the popcorn cool completely. Once it is cooled, transfer the popcorn into a large bowl. Repeat this process with the remaining five colors, replacing the parchment paper with each color.
When all of the colors are completed, mix the different-colored popcorn in the bowl and either serve it immediately or store it in an airtight container for up to two days or longer.
What to Do Next
Most of the recipes for rainbow popcorn are incredibly easy. Most of them use regular or gel food coloring and the six main colors of the rainbow, but feel free to use other colors.
Make sure that each popcorn color cools off entirely and then is transferred into a bowl before doing the same thing with the other colors. If you don't do this, the colors could run together, and the popcorn might be a potpourri of different funky colors!
It's also important how you store your popcorn. Always store popcorn in a cool, dry place and always put it in an airtight container.
Try to find a jar or a plastic container with a lid so that no air gets inside. If you keep your rainbow popcorn in some type of airtight container, it can last for quite a while, sometimes even several weeks.
You can easily see and smell if the popcorn is still good, so it should be easy to tell when the popcorn starts to go bad. In addition, never refrigerate popcorn because this is the perfect way to cause it to dry out and have a stale taste.
If all else fails, you can always buy some ready-made rainbow popcorn.
FAQs on Making Rainbow Popcorn
Can I use any type of food coloring for rainbow popcorn?
Yes, you can use liquid food coloring or gel-based food coloring to achieve vibrant colors for your rainbow popcorn. Start with a small amount and gradually add more until you achieve the desired color intensity.
Can I use an air popper instead of a popcorn popper or pot?
Yes, an air popper is a great alternative for making rainbow popcorn. Follow the manufacturer's instructions for your specific air popper model, and once the popcorn is popped, divide and color it as described in the guide.
How long does it take for the colored popcorn to dry?
The drying time for colored popcorn can vary depending on the humidity and the amount of food coloring used. Generally, allow the popcorn to air dry for about 30 minutes to an hour. This helps the food coloring set and prevents it from transferring to your hands or other surfaces.
Can I make rainbow popcorn in the microwave?
Yes, you can make rainbow popcorn in the microwave. After popping the popcorn in a microwave-safe bowl or bag according to the manufacturer's instructions, divide and color the popcorn using microwave-safe bowls or cups. Mix and then spread the colored popcorn on a baking sheet or parchment paper to air dry.
How long can I store rainbow popcorn?
Rainbow popcorn is best enjoyed fresh, as the colors may fade over time. However, if you store it in an airtight container at room temperature, it can stay fresh for up to a few days. Just note that the vibrant colors may become less intense the longer it is stored.
Final thoughts 💭
Making colored popcorn is fun, and the popcorn itself makes a great gift or addition to home movie night. Even though the recipes are simple, you still need to follow the instructions to the letter to make sure popcorn comes out just right.
This is also a cheap recipe, so you aren't going to be spending a lot of money to make your popcorn. Simple and inexpensive, it's also fun to spend the afternoon making your next dessert!
Check out our Unicorn Popcorn next.