Popcorn is a delicious, healthy snack that you can make on your stove with just a few minutes of preparation.
Making it this way will save you money and the hassle of using an air popper or microwave as well as eliminate any potentially harmful chemicals from leeching into your popcorn during cooking.
Although everyone will have their preferred way of preparing this yummy snack, we have simple, step-by-step instructions on how to pop popcorn on the stove with vegetable oil.
At a Glance – What You'll Need
Product
Great Northern Popcorn Original Stainless Steel Stove Top
Orville Redenbacher's Gourmet Popcorn Kernels
Happy Belly Vegetable Oil
Product
Great Northern Popcorn Original Stainless Steel Stove Top
Product
Orville Redenbacher's Gourmet Popcorn Kernels
Product
Happy Belly Vegetable Oil
Last update on 2023-12-06 / Affiliate links / Images from Amazon Product Advertising API
Can You use Vegetable Oil for Popcorn?
Can you make popcorn with vegetable oil? Yes! In fact, the different types of vegetable oil are a popular choice for popping popcorn.
How To Pop Popcorn On The Stove With Vegetable Oil
Light, fluffy kernels, here we come!
This recipe costs around $0.80 per serving, depending on where you buy your ingredients.
You will need:
Popcorn kernels
Vegetable oil
A pot with a lid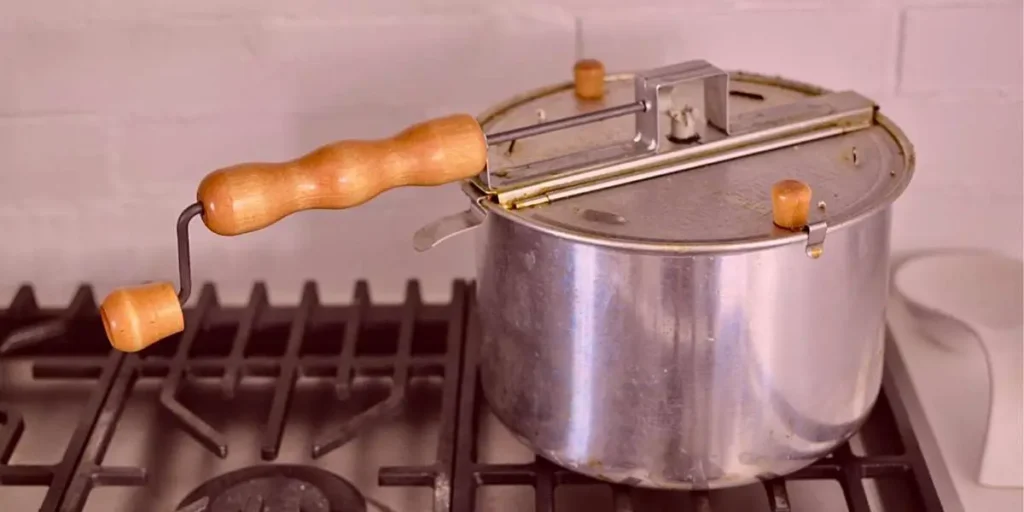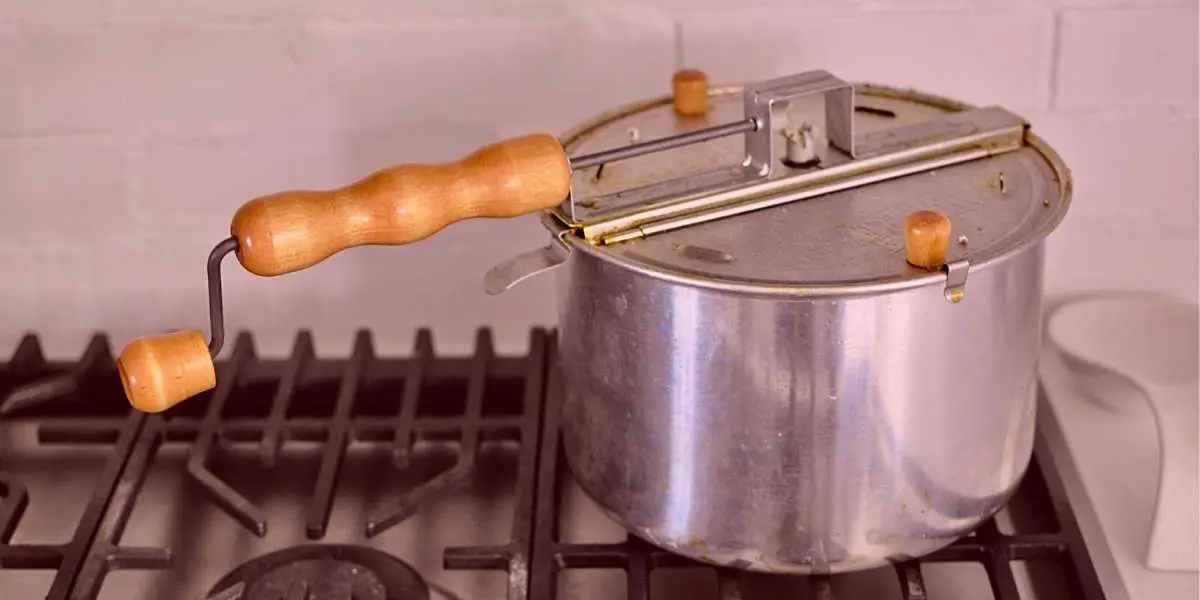 Step 1
Put a tablespoon of vegetable oil and place it on the stove at medium heat, allowing a few minutes to heat up.
Vegetable oil has a much higher smoke point than butter, so it's the perfect choice for getting the kernels super hot without the oil burning.
Step 2
Add two kernels to your pot and wait for them to pop (this will tell you if your oil is hot enough).
If both kernels pop immediately, proceed to step three; if they don't, wait a few more minutes for the pan to heat up.
TIP – We're making sure our pan has reached a high enough temperature so when we add in our popcorn kernels, they'll instantly start popping.
Step 3
Pour in an even layer of popcorn kernels into your saucepan or pot, making sure not to overfill the pan.
Step 4
Cover your pan with a lid and constantly shake it. Make sure to keep shaking until almost all of the popcorn has popped (you don't want any un-popped kernels at the bottom).
Step 5
Once all the kernels have finished popping, remove the saucepan from the heat immediately; if you leave the popcorn on the stove for more than 30 seconds, it'll burn and taste bitter instead of delicious.
Step 6
Add salt and seasonings like sugar or butter once they're off the stove.
Following these steps should ensure a fluffy bowl of homemade popcorn made with vegetable oil is heading your way.
Why Use Vegetable Oil To Make Popcorn?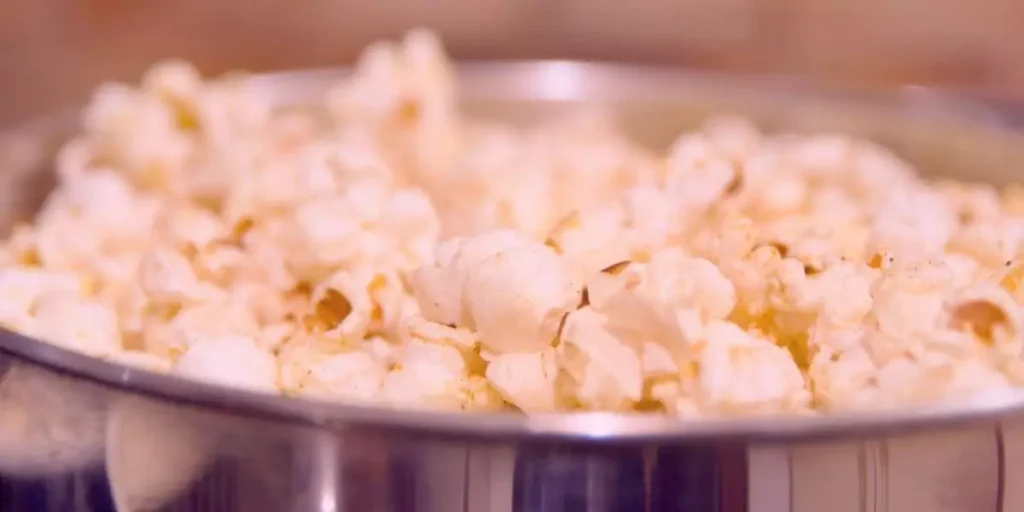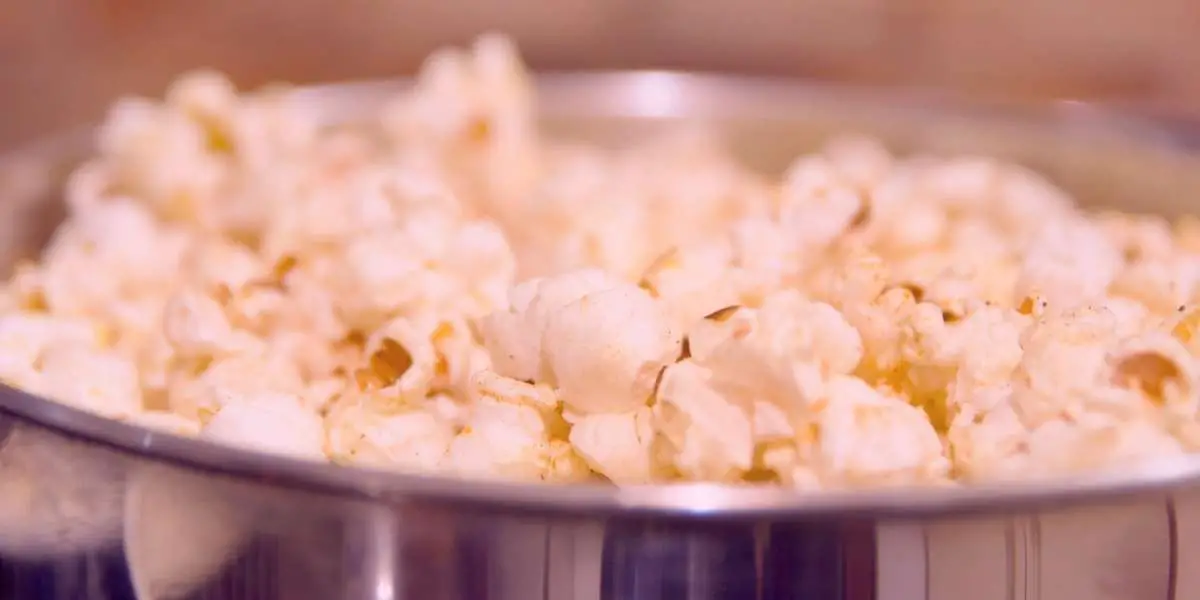 What's the best oil for popping popcorn? Vegetable oil is an excellent option for popping popcorn as it helps coat the pan to prevent sticking. It has a high smoke point (400-450°F) and a neutral taste. Some vegetable oils are considered healthier than other oils but remember that all oil has a high-calorie count and you should use it in moderation.
If you are particularly interested in a healthy option, look for oils produced with traditional crushing and pressing methods, not chemical extraction.
Reasons to use vegetable oil include:
It contains polyunsaturated (omega-3 and omega-6 fatty acids)
Monounsaturated fats
Vegetarian and vegan friendly
Neutral taste allows the flavor of toppings to shine
Popcorn is one of the most popular snacks in the US, and with some thought about what you add to it and how you make it, you can make healthier choices.
Check out our article on using olive oil for making popcorn.
What Types of Vegetable Oil are Good for Popcorn?
The term vegetable oil is used to describe oil that comes from a plant source. There are now a plethora of readily available vegetable oils in our supermarket – some of the most common are:
Rapeseed oil
Grape seed oil
Corn oil
Cottonseed oil
Sesame oil
When choosing a vegetable oil, prioritize either a neutral taste or a taste that you like eg. many people love using coconut oil.
TIP – A tablespoon of oil should suffice for a popcorn batch. Using a more neutral flavor means adding melted butter or other toppings without having a flavor clash.
Is Popcorn a Vegetable?
Popcorn that is harvested when dry and mature is considered a whole grain, not a vegetable.
Can you use Vegetable Oil for Popcorn Machine?
Yes, in fact, the most common (and delicious) choice of vegetable oil for popcorn machine is coconut oil.
FAQs How to Pop Popcorn Using Vegetable Oil
How do I pop popcorn on the stove using vegetable oil?
To pop popcorn on the stove using vegetable oil, start by heating a pot or large pan over medium heat. Add enough vegetable oil to cover the bottom of the pan. Once the oil is hot, add the popcorn kernels and cover the pan with a lid. Shake the pan occasionally to prevent burning. When the popping slows down to a few seconds between pops, remove the pan from the heat and let it sit for a minute to allow any remaining kernels to pop.
What type of popcorn should I use?
It's recommended to use popcorn kernels specifically meant for popping. These can be found at most grocery stores and are usually labeled as "popcorn" or "popping corn."
Can I use any type of vegetable oil?
Yes, you can use most types of vegetable oil for popping popcorn on the stove. Common options include canola oil, corn oil, sunflower oil, or peanut oil. Avoid using strongly flavored oils like olive oil, as they can alter the taste of the popcorn.
What is the recommended amount of vegetable oil to use?
A general guideline is to use about 2 tablespoons of vegetable oil for every 1/2 cup of popcorn kernels. Adjust the amount according to the size of your pan, ensuring that the bottom is evenly coated with oil.
Do I need a special type of pot or pan?
While you don't necessarily need a special pot or pan, it's best to use a thick-bottomed pot or a heavy-duty pan with a tight-fitting lid. This helps distribute heat evenly and prevents the popcorn from burning.
What is the best heat setting for popping popcorn on the stove?
Medium heat is usually sufficient for popping popcorn on the stove. However, stovetop temperatures can vary, so you may need to adjust the heat slightly to find the optimal setting for your specific stove.
How long does it usually take for the popcorn to pop?
The popping time can vary, but on average, it takes about 3-5 minutes for the popcorn to pop completely. It's important to monitor it closely to prevent burning.
What are some signs that the popcorn is ready?
As the popcorn starts to pop, you'll hear a steady popping sound. Once the popping slows down to a few seconds between pops, it's an indication that the popcorn is ready.
Can I add any flavorings to the popcorn while it's popping?
It's best to add flavorings, such as salt or seasoning, after the popcorn has finished popping. Adding flavorings during the popping process can cause them to burn or become unevenly distributed.
Is it safe to leave the stove unattended while popping popcorn?
It's not recommended to leave the stove unattended while popping popcorn. Popcorn can quickly go from perfectly popped to burnt if left unattended. It's best to stay near the stove and monitor the popping process.
What should I do if the popcorn starts to burn?
If you notice that the popcorn is starting to burn, immediately remove the pot from the heat source. Carefully transfer the remaining popcorn to a different container, being cautious not to include any burnt pieces. Adjust the heat or use a lower heat setting for the next batch.
Can I reuse the vegetable oil for popping multiple batches of popcorn?
Yes, you can reuse the vegetable oil for popping multiple batches of popcorn. After each batch, allow the oil to cool, strain out any leftover popcorn bits, and store it in a clean, airtight container. However, it's recommended to discard the oil if it becomes dark, smelly, or starts to smoke during the popping process.
What are some alternative methods for popping popcorn without a stove?
If you don't have access to a stove, you can try popping popcorn in an air popper, microwave, or using a popcorn popper designed for the microwave. Each method may require specific instructions, so refer to the manufacturer's guidelines or follow a trusted recipe.
Is popcorn popped on the stove using vegetable oil healthier than microwave popcorn?
Popping popcorn on the stove using vegetable oil allows you to have more control over the ingredients and the amount of oil used, making it a potentially healthier option compared to pre-packaged microwave popcorn. However, the overall healthiness depends on the type and quantity of oil used, as well as any additional flavorings or toppings.
Vegetable Oil for Popcorn 💭
Using vegetable oil to pop popcorn will keep your pan stick-free and produce some tasty, crunchy popcorn. Whether you are utilizing a pan or a pot, using an oil with a high smoke point like vegetable oil, allows for optimal popping and less burned kernels.
You might also like our article on oil for popcorn machines.