When people hear the term "mushroom popcorn," many automatically assume that it is popcorn that comes from mushrooms. Even if you like the taste of mushrooms, mushroom-flavored popcorn doesn't sound all that appealing.
But not to worry because this type of mushroom refers to the shape and texture of the popcorn and not where the kernels come from or how the popcorn tastes. Once you learn a little more about mushroom popcorn we're sure you'll be keen to give it a try.
At a Glance – Best Mushroom Popcorn
Top Pick!
Product
Concession Essentials Premium Gourmet Mushroom
Mushroom Popcorn by Hoosier Hill Farm
Mushroom Popcorn Kernels by Princeton
Top Pick!
Product
Concession Essentials Premium Gourmet Mushroom
Product
Mushroom Popcorn by Hoosier Hill Farm
Product
Mushroom Popcorn Kernels by Princeton
Last update on 2023-12-05 / Affiliate links / Images from Amazon Product Advertising API
What Is Mushroom Popcorn?
When you buy popcorn, whether it's made on the stove, in the microwave, or in an air popper, you have two types to choose from. Here is a brief description of each type.
Butterfly popcorn. Butterfly popcorn is light and airy, and it is usually sold in movie theaters and in other public places that serve snacks. Also called snowflake popcorn, this type of corn pops in complicated patterns and has "wings" in its design. When you season butterfly popcorn with butter or seasonings, they easily catch on those wings, making the popcorn much tastier. They are usually not used for caramel or other types of coated popcorn because the caramel can make the popcorn disintegrate.
Mushroom popcorn. This popcorn comes in a mushroom design, complete with a ball-shaped top. Instead of light and airy, the popcorn is firm and round, and they can get up to 24 times their size when popped, making them larger than butterfly popcorn. They pop in all sorts of shapes and even have a chewy consistency just like mushrooms do, hence their name. The biggest advantage of mushroom popcorn is that it is perfect for making any type of popcorn you plan to coat with caramel or candy. Butterfly popcorn isn't usually used for caramel or coated popcorn.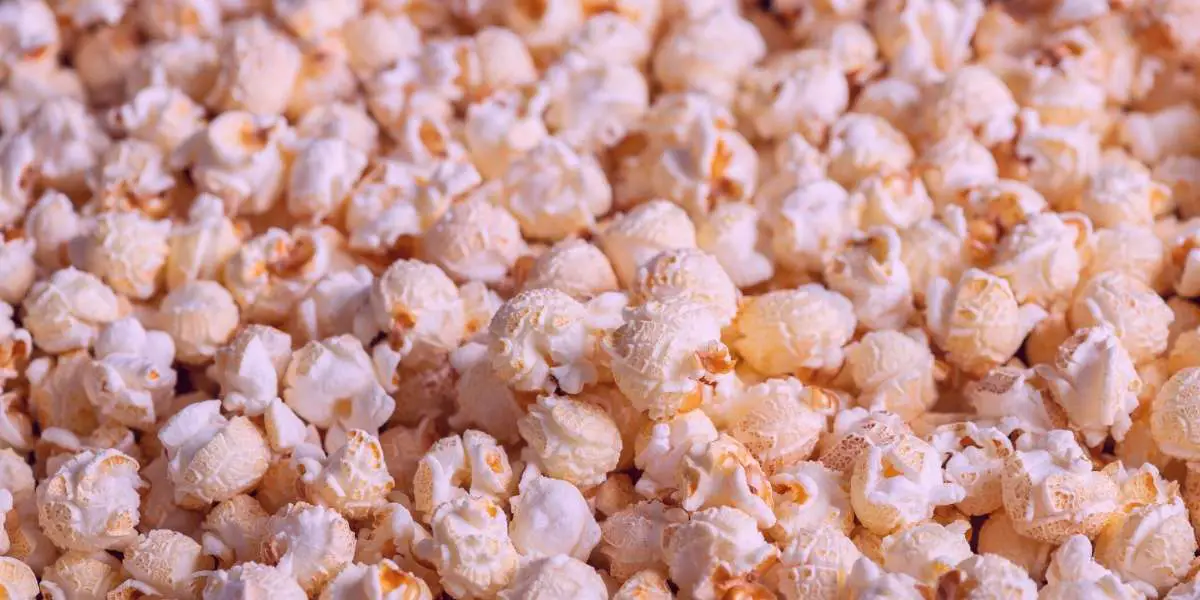 Mushroom popcorn has a firmer consistency and holds its shape better, so you can pour caramel or chocolate over it and it will remain the same size and shape. This is not the case with butterfly popcorn. This is why mushroom popcorn is used in pre-popped and packaged popcorn a lot of the time. Think of it this way: mushroom-type kernels make large, round popcorn, while butterfly popcorn pops in unpredictable shapes and is smaller in size.
What Type of Popcorn Is the Best?
While both mushroom and butterfly popcorn tastes great and has numerous advantages, most people find that when they wish to put melted butter over their popcorn, the butterfly type works best, while the mushroom type tends to work best for thick and gooey toppings such as caramel, melted candy, and even melted cheese.
Mushroom popcorn doesn't break apart as quickly as butterfly popcorn does when certain toppings are added.
As far as the taste and texture go, it's up to you which type of popcorn to choose. The butterfly type of popcorn is light, airy, and crispy, while the mushroom type is denser, bigger, and chewier. Both are delicious, of course, so your decision will be based on the toppings you choose to put over the popcorn and how you plan to flavor it once it's popped.
When you take all of their features into consideration, it's a lot easier to decide between mushroom and butterfly popcorn.
For more info on mushroom vs butterfly, check our article.
The Best Mushroom Popcorn Kernels
If you're anxious to try the mushroom-type of popcorn, here are some of the highest-rated brands on the market:
Concession Essentials Premium Mushroom-Style Popcorn.
This four-pound jar of gourmet popcorn sells for under $14 and produces extra-large popcorn that is chewy and yummy. It is non-GMO popcorn that is perfect for fundraisers, school and charity events, and of course, for home use.
The popcorn tastes delicious and can be popped in any type of popcorn maker, making it a very versatile type of popcorn mix.
Amish Country mushroom-style popcorn
This 14-ounce jar of mushroom-style popcorn pops up chewy and large, and it even comes with 15 different recipes to try so that you don't have to go online and look them up yourself.
It sells for around $8 and makes tons of popcorn, and it is low in calories, gluten-free, and non-GMO.
If you're looking for mushroom popcorn that is good for you and tastes great, this is the brand you want.
Family Farm and Feed gourmet mushroom-style popcorn
This yellow gourmet popcorn comes in a three-pound container and sells for just under $17.
This is the butter-flavored type, but the company offers other flavors as well. You can use this popcorn in any type of popcorn-making machine, and the best part is, there are no artificial ingredients at all.
Made in the heartland, this gluten-free, non-GMO popcorn is chewy and tasty to appeal to all popcorn lovers.
Mushroom Popcorn by Hoosier Hill Farm
What sets Mushroom Popcorn apart is its unique kernel shape. When popped, these kernels transform into mouthwatering round pieces, making them perfect for creating irresistible flavored popcorn varieties like kettle corn and candied popcorn. Let your imagination run wild as you experiment with different seasonings and toppings to create your own signature popcorn creations.
For a savory twist, sprinkle Hoosier Hill Farm's Cheddar Cheese Powder or Nutritional Yeast Flakes over the freshly popped Mushroom Popcorn. The result is a savory sensation that will leave you craving more.
This 4-pound pack of Mushroom Popcorn offers generous servings for your snacking pleasure. With 64.0 ounces of popcorn goodness, it's perfect for movie nights, gatherings, or simply indulging in a satisfying treat whenever you desire.
Princeton Popcorn Farm mushroom-style popcorn
This brand will surprise you because the popcorn is gigantic, not to mention chewy and tasty. It comes in a whopping eight-pound bag and sells for roughly $35, so you get a lot of popcorn for very little money.
You can also use this popcorn in any type of popper or saucepan, and the huge, ball-shaped kernels are both gluten-free and non-GMO.
For all the information on mushroom vs butterfly popcorn, check our article.
How to Guarantee Your Mushroom Popcorn Comes Out Perfect
If you've never cooked mushroom popcorn before, not to worry because it isn't that different from cooking other types of popcorn. So, how to pop mushroom popcorn?
Remember, mushroom and butterfly popcorn are very different in size, texture, and almost everything else. This means that the way you cook the popcorn to the way you serve it can be slightly different. So here are some tips to follow to make sure your mushroom-style popcorn is perfect every time.
How to Make Mushroom Popcorn
Choose the Right Pot
To make mushroom popcorn, it's important to use a pot that is as wide as it is tall. This will provide enough space for the popcorn to expand as it pops. Pots that are too tall or too short won't be suitable. If you don't have a suitable pot, consider investing in a stovetop popper specifically designed for popcorn. While some may be more expensive than others, it's a worthwhile investment if you frequently make popcorn.
Select the Right Oil
Mushroom-style popcorn requires an oil with a high smoke point to prevent burning and smoking. Opt for oils such as coconut, peanut, sunflower, safflower, or light olive oil for the best results. Avoid using extra-virgin olive oil as it has a relatively low smoke point. Maintain a 1:3 ratio of oil to popcorn when popping.
Determine the Right Oil Temperature
Ensure that the oil is adequately heated for popping mushroom popcorn. Set the heat to medium or medium-high and allow the oil to warm up. Add two to three popcorn kernels to the pot to test if the oil is at the right temperature. Once they pop completely, it indicates that the oil is hot enough. At this point, you can add the remaining kernels and proceed with popping. Always ensure that the oil is sufficiently hot before adding the popcorn.
Add the Mushroom Popcorn Kernels
Once the oil is hot enough, carefully add the mushroom popcorn kernels to the pot. Use the appropriate quantity based on your desired serving size. It's crucial not to overcrowd the pot as it may affect the popping process. Leave enough space for the kernels to expand and pop without getting congested.
Pop the Mushroom Popcorn
With the kernels in the pot, cover it with a lid to trap the heat. Shake the pot gently back and forth to prevent the popcorn from sticking or burning. As the kernels pop, listen for the popping sound. Once the popping slows down to a few seconds between pops, remove the pot from the heat and let it sit for a minute to allow any remaining kernels to finish popping. Finally, carefully remove the lid, and your delicious mushroom popcorn will be enjoyed!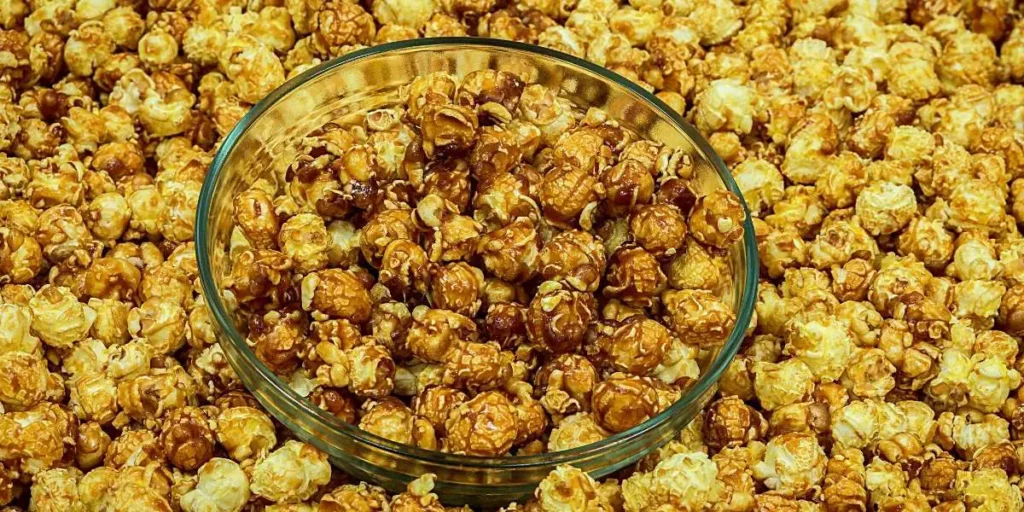 You might also want to consider a special popcorn bowl that is made just for holding and eating popcorn. These specially-made bowls have holes at the bottom to catch unprocessed kernels, and they are great for kids because they won't accidentally get the kernels in their mouths and choke on them.
Most of these bowls are also very reasonably priced, so you can buy as many of them as you need without breaking the bank.
Best Mushroom Popcorn Caramel Recipe
Caramel popcorn is best made with mushroom popcorn – check out how to make it here.
FAQs on Mushroom Popcorn
What is mushroom popcorn?
Mushroom popcorn is a specific variety of popcorn known for its large, round, and compact shape. Unlike butterfly popcorn, which has irregularly shaped flakes, mushroom popcorn pops into dense, ball-like shapes that resemble mushrooms. It is often used in gourmet popcorn, caramel corn, and other flavored popcorn snacks.
Where can I buy mushroom popcorn kernels?
Mushroom popcorn kernels can be found in specialty stores, gourmet food shops, or online retailers that offer popcorn supplies. Some grocery stores with a wide selection of products may also carry mushroom popcorn kernels. Check the baking or snack food sections for popcorn kernels labeled as "mushroom" or "gourmet."
Can I use regular popcorn kernels instead of mushroom popcorn kernels?
Regular popcorn kernels, commonly used for making butterfly popcorn, are not ideal substitutes for mushroom popcorn kernels. The unique characteristic of mushroom popcorn is its large, spherical shape, which is not achieved with regular popcorn kernels. If you want the distinct mushroom popcorn appearance, it's best to use the appropriate mushroom popcorn kernels.
How should I store mushroom popcorn kernels?
Store mushroom popcorn kernels in an airtight container or resealable bag in a cool, dry place to maintain freshness. Keep them away from moisture, heat, and direct sunlight, as these factors can impact the quality and popping ability of the kernels. Proper storage conditions can help prolong the shelf life of the popcorn kernels.
What are some popular ways to season or flavor mushroom popcorn?
Mushroom popcorn serves as an excellent base for various flavors and seasonings. Some popular options include classic butter and salt, caramel, cheese, spicy seasoning blends, chocolate coatings, or sweet glazes. Experiment with different seasonings and coatings to create your own unique popcorn flavors. There are numerous recipes available online that provide inspiration for seasoning mushroom popcorn.
Can I air-pop mushroom popcorn?
Yes, you can air-pop mushroom popcorn using an air popper specifically designed for popcorn. Air popping is a healthier alternative to popping in oil as it requires little to no oil. Follow the instructions provided with your air popper and adjust the popping time according to the manufacturer's recommendations for mushroom popcorn kernels.
How can I achieve a crisp texture with mushroom popcorn?
To achieve a crisp texture with mushroom popcorn, it's important to use the right oil and temperature. Opt for oils with high smoke points like coconut, peanut, sunflower, safflower, or light olive oil. Heat the oil to medium or medium-high temperature before adding the popcorn kernels. Ensure the oil is hot enough for proper popping. Cooking the popcorn at the right temperature will help achieve a desirable crispness.
Can I make caramel corn with mushroom popcorn?
Yes, mushroom popcorn is an excellent choice for making caramel corn. Its sturdy and round shape holds it well when coated with caramel or other sweet glazes. The denser texture of mushroom popcorn gives caramel corn a satisfying crunch. There are many recipes available online that provide detailed instructions on how to make delicious caramel corn using mushroom popcorn.
Are there any gluten-free options for seasoning mushroom popcorn?
Yes, there are plenty of gluten-free options for seasoning mushroom popcorn. You can use gluten-free seasonings like herbs, spices, cheese powders, nutritional yeast, or gluten-free flavored salts to add delicious flavors to your popcorn. However, always ensure that the specific seasonings or pre-made seasoning blends you use are labeled as gluten-free to avoid any potential cross-contamination.
Can I store popped mushroom popcorn for later consumption?
While it's best to enjoy freshly popped mushroom popcorn, you can store popped popcorn for a short period. Store the popped mushroom popcorn in an airtight container or resealable bag at room temperature to keep it crisp. Avoid exposure to moisture, as it can cause the popcorn to lose its crunchiness. However, note that the texture may gradually become less crispy over time. Consuming the popcorn within a day or two is recommended for the best taste and texture.
Mushroom Kernel Popcorn 💭
When it comes to popcorn, many people prefer the mushroom type over the butterfly type, even though both offer different advantages.
The main difference between the two has to do with their size, shape, and overall texture. Mushroom popcorn is chewy and tasty, and even though there are rules to follow when you're cooking it, it's a straightforward process that you can get used to without any problems.
If you've never tried mushroom popcorn before, you owe it to yourself to give it a try. You can find it easily in stores and online, and once you have the right oil and the right cooking pot, you'll be able to enjoy this tasty popcorn in no time.
Check out What are Popcorn Kernels next.