Having a tasty and satisfying popcorn product is the most important part of any popcorn business. Once you've got this sorted, you can start selling to the general public. 92% of the U.S. population eats popcorn, so you're sure to get lots of interest.
There's a lot of money to be made from selling popcorn as it can have a markup as high as 1,275%. This kind of profit will give you plenty of opportunities to grow your company and make your name in the popcorn industry.
But there are other things to think about when launching a popcorn business, including startup costs, equipment, and how to sell your popcorn.
How Do I Start a Popcorn Business?
It would be nice if you could decide one day to start a popcorn business and launch it next. But that's not the way to go if you want your business to be a success and have longevity.
Important things you must do before you start popping and selling are:
Create a business plan
Choose a business name & register it
Get an employer identification number (EIN), permits, and licenses
Take out insurance
Choose a business structure
Select a business location
Get your finances and funding in order
Buy machinery, raw materials, and other startup goods
Do market research
Promote your business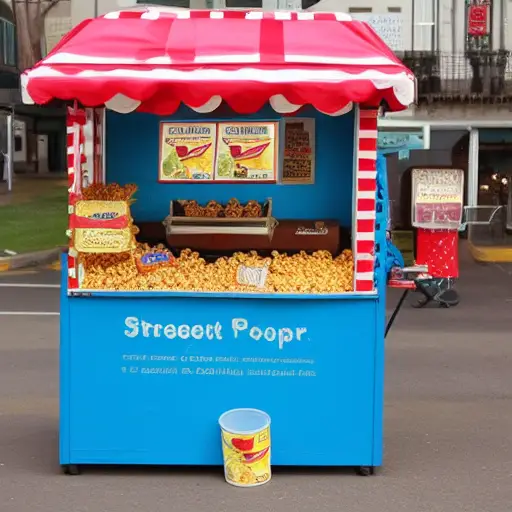 Is Popcorn a Profitable Business?
Absolutely! Popcorn is one of the most profitable businesses you can start. You can typically make between 80% and 90% profit on any popcorn you sell. This is because corn is so cheap to buy.
On average, it costs $0.60 to make a regular-sized popcorn which can retail for around $6.00. As you can see, the cost of making popcorn is very low, but people are prepared to pay a sizable amount for it.
Popcorn is also profitable because it's so easy to make. All you need to do is throw some kernels into an air popper and let it work its magic. As a result, production costs are low.
How Much Should I Charge for Popcorn?
The retail price of popcorn is usually between $1.25 and $2.00 per 1 ounce of popcorn. You can charge more for different flavors, toppings, and varieties of popcorn.
A good market to get into is the gourmet popcorn business. Gourmet popcorn is considered a premium and sought-after product and people are prepared to pay more for it because of this.
You also need to take into consideration how much your competitors charge for similar products. You don't want to price yourself out of the market. But, at the same time, if your product is better than theirs, make sure you charge appropriately for it.
How Do You Keep Popcorn Fresh to Sell?
Hot, fresh popcorn is a big selling point. The smell of freshly popped corn will lure customers in and keep them coming back for more. A commercial-grade popcorn machine is ideal as they have built-in warming decks that keep popcorn fresh and warm.
If you plan to pop the popcorn to sell at a later date, you'll need to keep the popcorn fresh in airtight packaging. One option is a stand-up pouch with a zipper or you could go for resealable and reusable bags that your customers can refill over and over again.
What Do I Need to Start a Popcorn Business?
You're going to need some basic supplies to get your popcorn business up and running. These include:
Popcorn machine
Popcorn kernels
Seasonings, flavorings, and toppings
Salt
Oil
Popcorn bags
Popcorn scoop
How Much Does it Cost to Start a Popcorn Business?
The cost of launching a popcorn business varies considerably. The greatest variation comes from your marketing costs and how much you spend (if anything) on your online presence.
Step by Step Business estimates that startup costs for a popcorn business are between $3,300 and $7,300. However, Starter Story says that it can cost as little as $12 or as much as $37,876 to get up and running.
What is the Best Type of Popcorn to Sell?
It's best to sell brands of popcorn that people are familiar with. Amish Country and Orville Redenbacher are well-known and much-loved brands that will go down a treat.
The movie theater chain AMC uses Orville Redenbacher's kernels to make their popcorn and they sell 52 million bags every year. So, this could be a good brand to start your business venture with.
Here's a list of the most popular popcorn brands to help your research.
What are the Best Popcorn Flavors to Sell?
You probably regularly argue with your loved ones that butter popcorn is the best flavor, only for them to disagree and say that caramel comes out on top.
Not everyone likes the same flavor of popcorn, so it's a good idea to sell a variety of flavors. The most popular popcorn flavors, according to National Today are:
Butter
Cheese
Caramel
Kettle corn
Garlic
Turtle
Plain
Zebra
Red Velvet
If you don't have a big capital to start with, offer a couple of flavors initially. As you sell more popcorn and make more profit, you can invest the cash back into your business and start selling more varieties.
How Can I Make More Profit From my Popcorn Business?
We've already mentioned that gourmet popcorn is profitable. It's a great way to increase the profit you're already making. One of the many benefits of gourmet popcorn is that you can sell small amounts for a higher price tag because it's a 'premium product'.
Some appetizing gourmet popcorn flavors to consider selling are:
Truffle
Cookies n' cream
Mixed berries
Chocolate & coconut
Parmesan Ranch
Gingerbread
Toasted marshmallow
Goat's cheese
Fruit & nut
You could also make yourself and your popcorn machine available to hire for special events, such as birthdays, corporate events, and weddings. Popcorn is particularly popular at weddings as it's so versatile, so you could make some serious cash from this type of work.
Popcorn businesses are profitable and fun to run. However, the market is a competitive one, so your business must offer something new and interesting to customers. If you've always dreamed of becoming an entrepreneur and you love popcorn, we hope that this guide has given you the push you need to combine the two and become a business owner.
Sources
https://www.starterstory.com/ideas/gourmet-popcorn-shop-business/startup-costs
https://moviebox-apkp.com/qa/what-brand-of-popcorn-does-amc-use.html
https://logicaldollar.com/start-popcorn-business/
https://stepbystepbusiness.com/business-ideas/start-a-popcorn-business/