Double Good Popcorn is a delicious Popcorn product that, once you start eating, you won't be able to stop. With a range of unique flavours that you won't find in the stores, it's developed a cult following and is known for giving an intense flavor hit that you won't of experienced with other brands.
On the downside, it is a pricey product with a premium price tag.
Double Good Popcorn is a delicious, award-winning gourmet popcorn. The company was launched in 1998 by Tim Heitmann and started life as an ordinary food business.
But in 2003, Good Popcorn changed tact and turned itself into a popcorn fundraising organization.
Double Good is a popcorn business like no other. Its unique business model means that it's a great way to raise funds for good causes. If you purchase popcorn through the Double Good website 50% of the money goes to their kids' foundation.
But is there popcorn actually any good?
You can read our Double Good flavor popcorn reviews below to see whether it's worth the hype.
What's the Best Double Good Popcorn Flavor?
There are currently 11 mouth-watering Double Good popcorn flavors to choose from.
Let's take a look at what these flavors are and what we like and dislike about them:
Sergeant Salt & Pepper
Segeant Salt and Pepper is the plainest popcorn that Double Good sells. It's simple but tasty.
The delicate salt and pepper taste allows the fresh taste of the popcorn to shine through.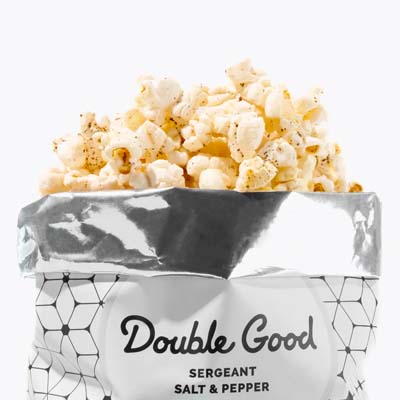 Caramel-Diem
There's nothing better than caramel popcorn, and Double Good has got theirs spot on.
They've added vanilla to their caramel popcorn to boost the flavor, which certainly works! This is a satisfying treat that you can't help but indulge in.
Butter Believe It!
Butter popcorn is one of our favorites. This popcorn isn't for those that love their popcorn smothered in butter, though.
Double Good has added just a hint of smooth butter to this popcorn. It does, however, have an incredible crunch.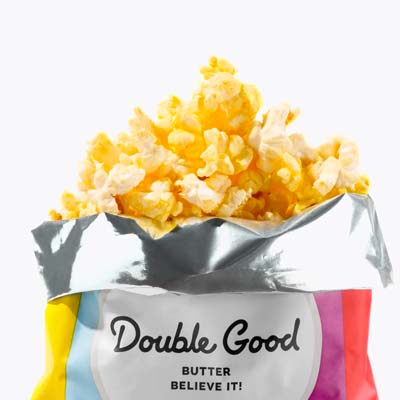 My Main Cheese
This popcorn is a striking orange color which shows just how cheesy it is.
All cheese fans will love this popcorn as it blends cheddar with blue cheese and tastes divine.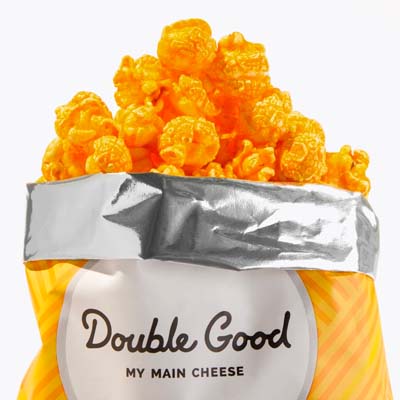 Easy Peasy Caramel Cheesy
Caramel and cheddar cheese together sounds a little odd, but Double Good have made it work. These two flavors make the popcorn taste both sweet and salty.
Each piece of popcorn has just the right amount of cheese and caramel on it so that neither flavor overpowers the other.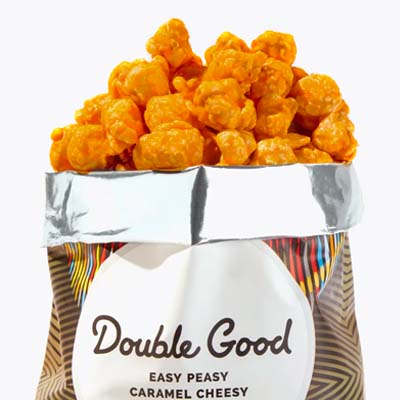 Chi-Town Chow Down
This is another cheese and caramel combination from Double Good. This time Piquant cheese is used instead of cheddar.
This is a bit too similar to Easy Peasy Caramel Cheesy for our liking, but it does taste nice and has a good crunch.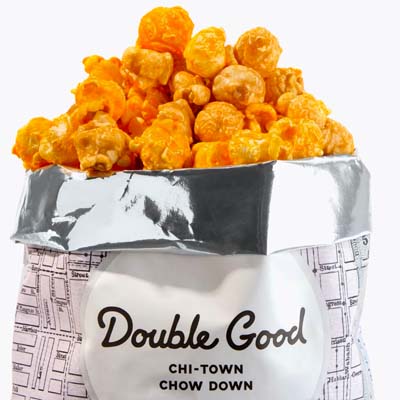 Little Kettle That Could
The first thing that stands out about this popcorn is how fluffy it is.
Double Good have come up with the perfect blend of sweet and salty popcorn with this flavor and it's very moreish!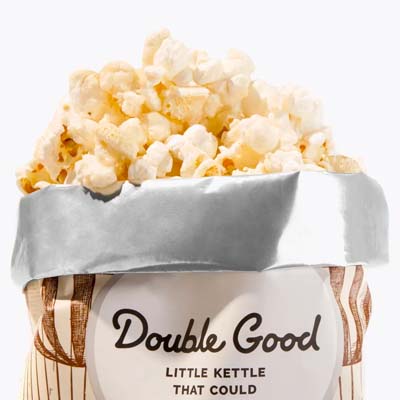 In Queso Fire
This flavor is a firm favorite among popcorn lovers and we can see why.
Garlic, onion, jalapeño, and cheddar cheese have been perfectly combined to make a spicy but savory popcorn that gets better with every bite.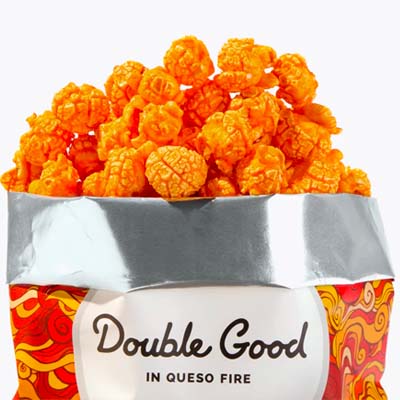 Sweetie, You Salty
When you open a bag of Double Good's Sweetie, You Salty popcorn, you'll be struck by the perfect, crispy, golden pieces of kettle corn.
Caramel has been poured all over each piece and has then been topped with a small sprinkle of sea salt. This is a delicious flavor that will have you begging for more.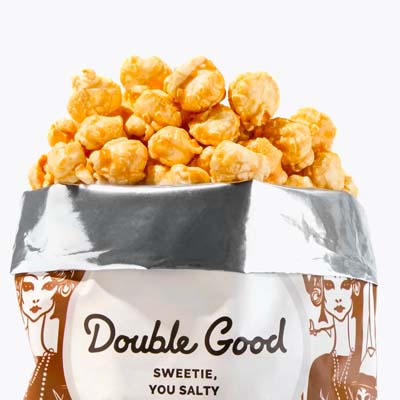 Holla-Peno
If you love spice, you'll love this popcorn.
Every piece of popcorn is topped with spicy jalapeño peppers which will take your breath away.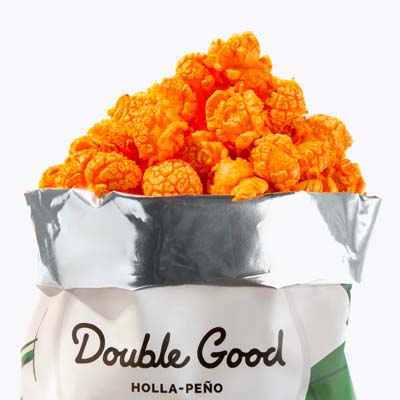 It's hard for us to choose the best Double Good popcorn flavor. Our Double Good popcorn reviews show that there's a range of flavors to suit everyone's tastes. If we had to choose just one flavor to buy, though, we'd go with In Queso Fire due to its tangy taste and good flavor combo.
How Does Double Good Popcorn Work?
The fundraising process begins with organizers using the Double Good Social Fundraising platform. A pop-up store is then set up for four days and can be accessed via the Double Good app and website.
The organizer of the fundraiser can share the link to the pop up store with friends and family. The aim is to encourage them to buy bags of Double Good popcorn to raise money for their fundraiser.
Sales are split 50/50. Fundraisers benefit because there's no admin, product to ship, or fees to pay.
Who Uses Double Good Fundraising?
When Double Good first started their fundraising platform, it aimed to help kids achieve their dreams. But now, all sorts of people fundraise via Double Good.
Some examples of organizations that have fundraised via Double Good include:
Julia Pappas Community Service Scholarship
St. Hubert's Animal Welfare Center and Home for Good Dog Rescue
Upsilon Phi Omega Chapter of Alpha Kappa Alpha Sorority, Inc
Westchester chapter of Delta Sigma Theta
Where is Double Good Popcorn Made?
Double Good pops all its popcorn in Chicagoland, Chicago. Every day, the company makes 15,000 pounds of their delicious popcorn.
How Long Does Double Good Popcorn Stay Fresh?
One of the best things about Double Good popcorn is that it's popped to order. The company states that there's no more than 48 hours between the popcorn being popped and the order being sent out.
As a general rule, unopened packaged popcorn stays fresh for between 6 and 12 months. However, Double Good's popcorn contains no preservatives which may reduce its shelf life to less than this.
For more info on when popcorn will expire, click this link.
A representative for Double Good on Facebook has advised customers that "We recommend consuming the popcorn within a few days after opening in order to enjoy the ultra-premium experience you purchased."
We're sure that you will tuck into your Double Good popcorn within this time frame. But if you don't manage to, you can revive old popcorn by reheating it in the oven. Or, you may choose to compost it instead.
How Much Does Double Good Popcorn Cost?
Each individual bag of Double Good Popcorn costs between $9 and $12. For this price, you get a bag that contains approximately 5 cups of popcorn.
Gift boxes containing three bags of popcorn of your choice are $39. A six-bag gift box sells for $69.
Double Good also sells 'Collections'. These include multiple bags for a set price. The price of these collections varies from $26 for the 'Keep It Simple' collection to $99 for 'The Perfect 10' collection.
Double Good certainly has a good business model and its mission is one to be admired. Its popcorn tastes great, and there are some unique and interesting flavors to choose from. But there's no denying that the popcorn is pricey and is out of some people's budgets.
Sources
http://www.facebook.com
https://patch.com/new-york/portchester/pop-popcorn-charity-provides-windfall-port-chester-school
https://www.tapinto.net/towns/berkeley-heights/sections/education/articles/gov-livingston-high-school-national-art-honors-society-popcorn-for-pets-fundraiser-d78ec0c2-5305-4b3e-bfd1-79ed8febd443
https://www.riverbender.com/events/details.cfm?seriesid=39122
https://popcornbistro.com/double-good-popcorn-review/
https://www.youtube.com/watch?v=O5mjdGKSM8k
https://www.foodandwine.com/snacks/gourmet-popcorn-taste-test-favorite