The good news is that most movie theaters will happily let you buy popcorn without seeing a movie.
Movie theater popcorn is the tastiest, most satisfying type of popcorn there is. Nothing quite compares to the salty taste and crunchy texture of the popcorn you can buy at the movies.
So don't worry about sauntering into the theater, buying a bucket of their popcorn, and slipping back out – you won't be judged! In fact, you'll probably encourage more people to do the same.
Let's look at the rules around buying popcorn without seeing a movie, whether there are any restrictions, and just what makes movie theater popcorn so tempting.
Can You Buy Popcorn at the Movies and Leave?
Yes, the following movie theater chains have no problem with people buying popcorn without seeing a movie – where to buy movie theater popcorn:
AMC
Luxe Reel
Cinemark
iPic
Paramount
Marcus Theaters
Local theaters may also allow you to buy popcorn and leave. It's best to check the rules with them first, though, to avoid any awkward altercations.
How Long Does Movie Theater Popcorn Last?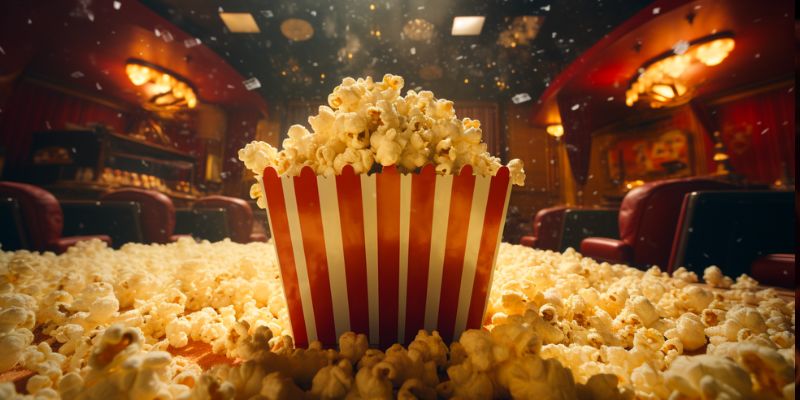 Unopened movie theater popcorn should last between two and four weeks. If you can't help but dive in and start munching as soon as you buy the popcorn, it should last between one and two weeks.
No need to worry about defrosting the popcorn when you want a yummy snack, as popcorn doesn't freeze.
Can a Movie Theater Restrict How Much Popcorn I Buy?
A movie theater is unlikely to restrict how much popcorn you buy. Movie theater popcorn typically has a markup of 1,275%, making it one of the most profitable concessions they sell. It makes sense for the movie theater to sell as much popcorn as they can to you, even if you're not going to stay and watch a movie.
Why Would You Want to Buy Movie Popcorn and Leave?
Not sure about the hype of buying popcorn and then leaving? There are so many reasons to do this aside from the taste (which will inevitably be your number one inspiration).
Giant Tub
For example, movie popcorn comes in a giant tub that allows at least two people to reach their hands inside simultaneously. There's something intimate about sharing food and needing to be close to someone that everyone loves. But that certainly doesn't mean that movie popcorn is just for couples.
Also, the large tub itself represents so many wonderful memories of enjoying a fun movie as well as simply having the convenience of a larger opening.
Extra Toppings
Get adventurous with your toppings at the movies. Many theaters offer numerous toppings, including toffee, chocolate, rosemary, buttermilk, and more. This choice allows you to personalize your popcorn and elevate the flavors.
Why is Movie Theater Popcorn so Much Tastier than Other Popcorn?
Most people will agree that popcorn from a movie theater is a lot tastier, flavorsome, and moreish than any other popcorn. That's because movie theaters use flavacol on their popcorn rather than butter.
Flavacol is a seasoning salt that tastes like butter and is yellow in color. It's also a very addictive ingredient which is why so many people are tempted to buy movie theater popcorn without seeing a movie.
Can You Buy Movie Theater Popcorn Anywhere Other than the Movies?
Yes. There's no need to go to the movie theater to get your popcorn fix anymore, as AMC has started to sell their delicious popcorn elsewhere.
You can now get AMC popcorn in the following ways:
Delivered to your door direct from the movie theater
From your local shopping mall or AMC kiosk
From a supermarket or convenience store in a microwaveable format
If you do want to head into the theater, they've made it easier for you to get your hands on their popcorn as you can order a popcorn-to-go package for pickup.
Can You Save Money on Movie Theater Popcorn?
There's no denying that you pay a premium price for popcorn from a movie theater. A medium tub of popcorn at AMC currently sells for between $7.10 and $8.09. If you want to add flavoring to it, you'll have to pay an extra 49 cents.
You can save a small fortune by investing in an AMC refillable popcorn bucket. Every year, a new bucket is released and it allows you to refill it with popcorn until the end of December of that year.
At the moment, an AMC refillable popcorn bucket will set you back $20.99 plus tax. Every refill will cost you $4.99 plus tax, and there's no limit on the number of refills you can have. So, if you regularly plan on buying popcorn without seeing a movie, this is a great item to treat yourself to.
Can You Recreate Movie Theater Popcorn at Home?
Yes, if you're craving movie theater popcorn but don't want to splash out on it at the movies, you can recreate movie theater popcorn in the comfort of your own home.
Many movie theater chains, including AMC, Regel, and Marcus theaters, cook their popcorn kernels in coconut oil. For an authentic look, opt for yellow popcorn kernels. As already mentioned, movie theaters use flavacol, so ditch the butter and use this instead.
Before your get started, make sure you've got the following ingredients:
1 tsp flavacol
2 tbsp coconut oil
½ cup yellow popcorn kernels
Your choice of flavorings/toppings
To make movie theater popcorn on the stove, you should:
Melt coconut oil in a pan.
Test that the oil is hot enough by adding a few kernels to the oil. When they pop, you can move on to the next step.
Put the rest of the kernels and flavacol into the pan and cover.
Keep the lid on the pan, but gently shake the pan to move the kernels around.
Listen out for popping. When it stops, turn the heat off and remove the pan from the stove.
Pour the popcorn into a serving bowl and add as many flavorings and toppings as you like.
Make Movie-Style Popcorn at Home with These Machines
Here are the best home theater style popcorn machines that deliver a similar consistency and taste to those at the movies.
Sources
https://spoonuniversity.com/how-to/how-to-prevent-popcorn-from-going-stale
https://www.mashed.com/267053/the-simple-hack-that-keeps-your-popcorn-from-going-stale/
https://www.amctheatres.com/annual-bucket?modalName=OrderAhead&rel=annual-bucket_fb-offer_annual-bucket_hero
https://www.boxofficepro.com/popcorn-primer