Are you in the mood for some homemade popcorn? Nothing tastes better than a bowl of freshly popped popcorn on a movie night.
However, at times, it can get quite boring to use the same recipes all the time. Luckily, there is an insane variety of different flavors and toppings that you can use to achieve the best-tasting popcorn you can make at home.
How Do I Make Popcorn Taste Better at Home?
Popcorn is a healthy and delicious snack that provides the perfect blank canvas for you to get creative in the kitchen.
When making popcorn at home, here are some of the ways you can get the best outcome.
Choose the Right Type of Popcorn
There are different types of popcorn kernels used to make popcorn. When it comes to color, yellow popcorn kernels are the most popular since they are readily available and affordable.
However, did you know that there are other colors of popcorn kernels too? For instance, purple popcorn is believed to have the best flavor.
When it comes to the size and shape of popcorn, there are different varieties, including mushroom, butterfly and ladyfinger. Mushroom popcorn is the best for flavored popcorn since it produces large and sturdy pieces that can withstand a lot of toppings.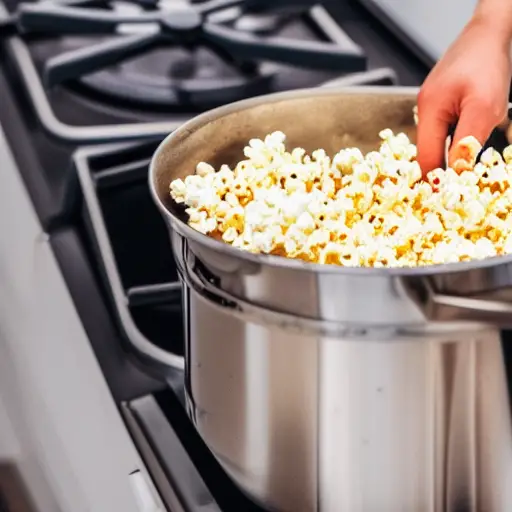 For more information on choosing the right popcorn, check our article comparing mushroom and butterfly popcorn next.
Choose the Right Popping Method
If you want to produce delicious popcorn, you should pop the kernels in oil rather than using an air popper. This is because air-popped popcorn tends to have a bland taste which can be very unappealing for some people.
Coconut oil is well-known for giving food a sweet, nutty flavor. For this reason, many movie theaters use coconut oil in their popcorn machines. However, it is important to note that coconut oil has a high-fat content hence it should be used sparingly.
Add the Right Toppings and Seasonings
Delicious homemade popcorn is not complete without a tantalizing array of seasonings and toppings. When it comes to popcorn seasonings, there are countless recipes and combinations that you can use to create your perfect mix.
Here are some excellent ideas to get you started:
Buffalo Ranch Seasoning: ¼ teaspoon sea salt, 1 teaspoon hot sauce, ¼ teaspoon dill weed, ½ teaspoon granulated garlic and ⅛ teaspoon cumin,
Rosemary Asiago Seasoning: 2 tablespoons freshly grated asiago, 1 teaspoon finely chopped rosemary and a pinch of garlic powder.
Tex-Mex Twist Seasoning: ¾ teaspoon ground cumin, ¼ teaspoon kosher salt, ¾ teaspoon chili powder and 1 teaspoon grated lemon zest.
On the other hand, when it comes to toppings, some of the common treats that you can add to your batch of homemade popcorn include marshmallows, peanuts, pretzels, chocolate and other delicious options.
If you want to check out some crazy popcorn recipe ideas check out this article.
What Is the Most Delicious Popcorn?
Statistics from National Today show that the most popular popcorn flavors in America are caramel, butter, cheddar and kettle corn. In addition, movie theater popcorn is quite popular because of its special butter seasoning.
According to an article on ABC, Americans eat approximately 17 billion quarts of popcorn in a year. While everyone has their own opinion about which flavor of popcorn is the best, certain flavors are considered to be crowd favorites.
Hence, if you are making popcorn for a gathering of friends or family, here are some flavors you should definitely include in your lineup.
Butter and Salt Popcorn
This classic flavor has stood the test of time to remain the top choice for most Americans. When making butter and salt popcorn at home, experts advise that you should use clarified butter or butter-flavored oil. This will help produce the best taste and prevent the popcorn pieces from getting too soggy.
On the other hand, when it comes to salt, you should grind the salt into fine granules before sprinkling it on the popcorn. Furthermore, you can add a layer of oil to the popcorn before adding the salt since this helps the flavor stick better.
Cheddar Popcorn
Cheddar cheese is well known for its ability to completely elevate the taste of popcorn. Most gourmet popcorn will include cheddar along with different herbs such as chives and rosemary.
So, the next time you are in the mood for gourmet popcorn, add some cheddar to create the best-tasting popcorn you can make at home.
Here's our guide on cheese popcorn.
Caramel Popcorn
Caramel popcorn is a world-famous flavor that needs no introduction. From circuses to children's birthday parties, caramel corn continues to dominate the scene with all its chocolatey goodness.
To make caramel popcorn at home, you should mix vanilla extract, corn syrup, salt, butter, and sugar and steadily bring them to a boil in a pot. Secondly, pour the melted caramel over the popcorn and allow it to harden.
Finally, you can add other toppings, such as sprinkles or marshmallows to enhance the taste.
What Popcorn Does Movie Theaters Use?
Movie theaters use yellow popcorn kernels that have been popped in coconut oil and seasoned with a special ingredient called Flavacol. This combination creates a characteristic yellow glow and a delicious buttery flavor.
If you are looking to make your own movie theater popcorn at home, you simply need to follow these instructions:
Heat up 4 tablespoons of coconut oil in a pan.
Add in 2-4 tablespoons of Flavacol along with half a cup of mushroom popcorn kernels.
Allow the kernels to pop while periodically shaking the pan to ensure none of the pieces burn.
Sprinkle a pinch of extra Flavacol to enhance the taste.
Get Creative in the Kitchen
Homemade popcorn creates a unique opportunity for your creativity to roam free. You can happily experiment with different flavors, seasonings, and toppings to create the best-tasting popcorn you can make at home.
So go ahead and explore. You never know; you might be the one to discover the next viral popcorn recipe.
Sources
https://www.thepioneerwoman.com/food-cooking/cooking-tips-tutorials/a98090/types-of-popcorn/#
https://www.taste.com.au/quick-easy/articles/coconut-oil/ufgup7tm#
https://nationaltoday.com/national-popcorn-day/