You're having a party and what better way to make it pop than having some popcorn! Here, we'll give you seven popcorn party ideas to keep your guests wanting more.
Popcorn Party Ideas
No matter the type of party, popcorn is always a welcome guest. Gender reveal popcorn? Birthday party Popcorn? Wedding popcorn? Halloween poptastic popcorn? If you're having a party, there's always room for it! From hiring a large popcorn maker to bags of popcorn for party favors, we have it all covered!
1. Popcorn Popper
First up, if you're having a party and want to offer popcorn, it might be time to bring out the big guns and hire a popcorn maker! The popcorn popper will save you a lot of trouble if you're wanting a continuous supply of popcorn.
2. Popcorn Bar
If you're having a large gathering and will be catering for a lot of different tastes at your party, one of the best popcorn party ideas is to have a popcorn bar. This way, your guests can choose their toppings and flavors themselves. You just have to provide the goods.
For your popcorn bar, you'd need a selection of toppings. These could include:
Salt
Butter
Cinnamon
Sugar
Melted chocolate (white, milk and dark)
Melted candy melts in different colors and/or flavors
Chocolate chips
Caramel
Sprinkles
Candies
Pretzels
Marshmallows
Trail mix
Peanuts
Cheese seasoning
Check out more ideas for a popcorn bar.
You'd also need to add labels to your containers for each topping as well as be aware of any allergens (for those with serious allergies that you're aware of, you should probably skip the ingredient from your popcorn bar altogether as the risk of cross-contamination is too great!)
Next, you'd need some sort of container. Here are a few popcorn bar container ideas:
Mason jars
Paper cups
Paper bowls
Mini buckets
Popcorn bags
Popcorn cones
Mason jars
Don't forget, you can add other things too – stickers for the bags (always popular with the kiddos!), party hats, and not forgetting serving spoons, tongs, and scoops!
3. Themed Popcorn
If your party has a theme, why not include popcorn in that theme? You can create July 4th red, white and blue popcorn as a patriotic and colorful snack, or how about some Thanksgiving Popcorn?
For Thanksgiving popcorn, you can use disposable gloves to create turkey-shaped popcorn treats with candies in the fingers and a googly eye on one side!
For a baptism party, gender reveal or baby shower, your popcorn could be pink or blue colored in color-coordinated bags, for example. You could even throw in some pink or blue candy toppings and sprinkles!
4. Kids' Popcorn Party
Kids love popcorn. What's more, it's cheap and cheerful too – so splashing the cash on popcorn party supplies won't see you too much out of pocket. Kids at a party need a couple of simple things: something to do and something to eat. So, why not combine the two with some popcorn party crafts?
You can make popcorn garlands, popcorn wreaths or even popcorn collage pictures. Whatever you decide, you can be sure that some of the popcorn will be lost along the way as it's just too good for little people to resist!
5. Bring Your Own!
How's this for a popcorn party idea? Each guest must bring some popcorn of their choosing! They can keep it simple with flavored popcorn or go all out with candy- and sprinkle-topped popcorn. This way both you and your guests will be able to try a variety of popcorn and decide on a favorite. I wonder who the popcorn king or queen will be?
6. Popcorn Party Games
A party isn't a party without games! And what better way than to incorporate popcorn into your party fun?
A game of 'guess the flavor popcorn' is a must. You could even put some wild and whacky flavors in there to surprise and bamboozle your guests!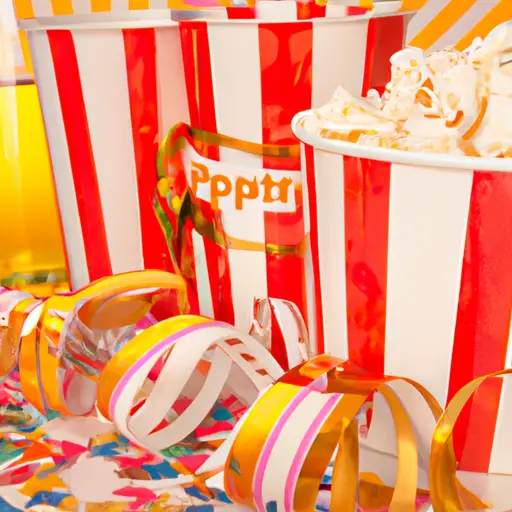 We've come across flavors such as Mince Pie flavor popcorn, prosecco flavor, and cheeseburger flavor to name a few. Will your guests work out the flavors, though? For more flavor ideas, check out Food For Net.
7. Popcorn Party Favors
When a party's almost over, and you're saying goodbye to your guests, quite often you want to give them a little something to take away with them as thanks for coming or a reminder of what a good time you've all had.
Popcorn works well as a party favor as it is so versatile! You could pop it into little bags, have guests help themselves from a popcorn bar, or have it made up into neat little boxes tied with ribbon. Whatever you choose, we're sure that popcorn party favors will go down a treat with your guests.
If you are looking for different ways to make popcorn, check out this article next.
How Do You Keep Popcorn Warm for a Party?
If you want to prep ahead of time for your party but don't want your popcorn going cold, there are a few things you can do to keep it warm.
Keep it in a thermos! If you have a large food flask, you can keep your popcorn hot for hours. Sadly, most food flasks and thermoses are a little on the small side for a party.
Slow cookers. These are great for keeping things warm! Simply add your freshly made popcorn to the slow cooker and keep it on the 'low' setting.
Use a warming plate. Some food warmers work with tealight candles underneath that keep the dish above warm. These work with popcorn too. A lidded dish is best so that it doesn't lose heat.
Re-warm in the oven. If these aren't an option, you can pop your popcorn in an oven-proof dish and warm it up in your oven. A few minutes in a warm oven will do!
Need some more ideas? Check out our article on popcorn cars next.
Final Thoughts on 7 Popcorn Party Ideas
Who doesn't love a party? And who doesn't love popcorn? The two are just destined to be together. With our seven popcorn party ideas, you'll be spoilt for choice in ways to serve, make and even play games with your popcorn. What's more, you'll be able to keep it all toasty warm too!
Check out some ideas for a popcorn baby shower next.
Sources