It's your favorite holiday. You've got tons of corn to pop. But how can you make your popcorn extra devilishly spooky? From the tricks to the treats, we've lots of creative ideas to get your popcorn in the Halloween mood!
Halloween Popcorn Recipe Round-up
From candy eyes to slime, adding a little extra to your popcorn can make it even more boo-tiful. Let's have a look at six Halloween popcorn ideas that will really make the ghouls come a-knocking.
Monster Halloween Popcorn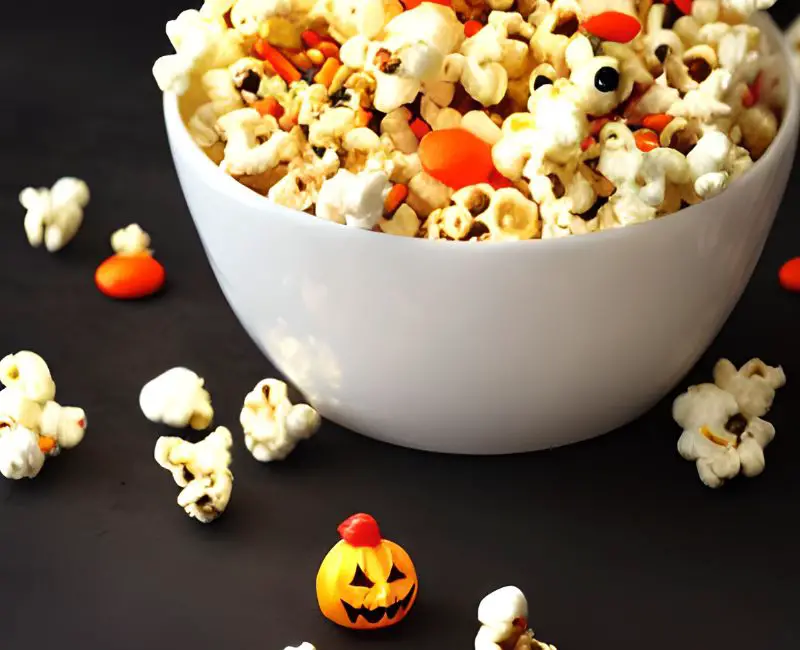 This Monster Halloween Popcorn recipe from Recipes from a Pantry is a combination of crunchy candy, spooktacular sprinkles, and ghoulish monster eyes. It's something that everyone will love. What's more, it's pretty easy to find the ingredients and throw it together in next to no time. Even the kids can get hands-on!
What you'll need:
Candy melts (we used two colors)
Sprinkles
Monster eyes (we used two colors, but one will be fine)
3/4 cup popcorn kernels (or ready-popped corn if you're in a hurry)

Start by popping about 3/4 cup of your favorite popcorn kernels. Make sure it's cool before you do this next bit. Melt your candy melts in a bowl, being careful to follow the instructions on the pack. Once it's melted, pour it over the popcorn and stir it all together.
The last bit is the most fun! Throw in all your sprinkles, candy and monster eyes and put it into a bowl to serve.
Why we like this one: It's easy enough for kids to get involved with.
Variations: If you don't have candy melts, you could use white chocolate. You could also add a bit of food coloring to make it extra spooky!
Need some popcorn ideas for valentine's day?
Kooky Popcorn Balls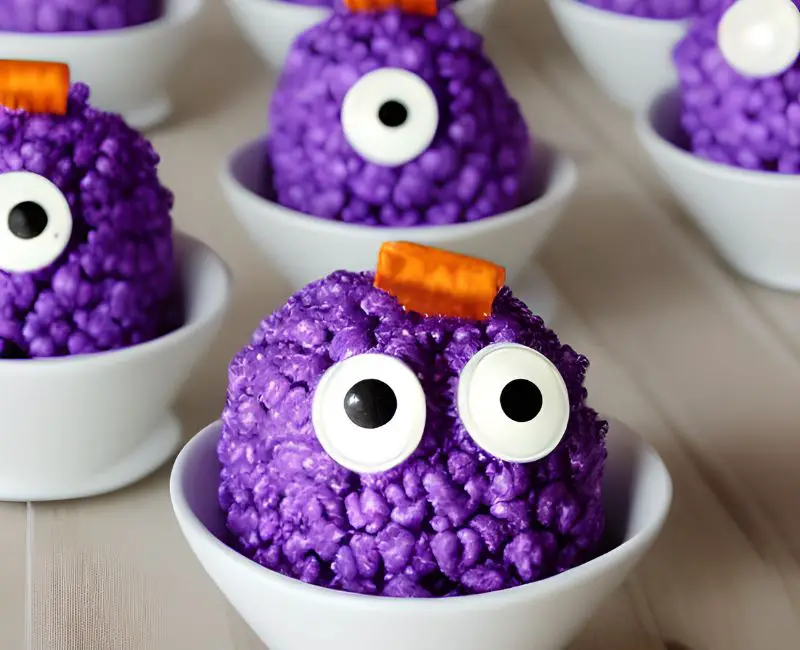 In eye-catching purple, these kooky Halloween popcorn balls from Hunny I'm Home are simply devil-icious. These trick-or-treat popcorn balls may look tricky, but they're really simple and fun to make. Grab your Halloween sprinkles, candy eyes, and some paper straws, and you're halfway there.
What you'll need:
Butter
Popped corn
Purple food coloring
Marshmallows
Candy eyes
Halloween sprinkles
Once you've popped your popcorn (lightly salted or plain works best), melt the butter in a large pot. Salted butter is best if you have it as it gives it a little more flavor. Once it's melted, add in your marshmallows. You'll need to stir it constantly; otherwise, it might get a little sticky!
Keep stirring once it's melted and combined, and pop in your purple food coloring. You could use orange or green if you prefer, the brighter, the better!
Next, add in your popcorn! Be careful not to squish it too much; you want your popcorn to keep its shape. Stir it carefully by pulling the purple marshmallow mix over the popcorn.
Pour your Halloween sprinkles into a flat dish ready. Grab a tablespoon, get some of the mixture, and roll it into a ball by hand. Once it's in a ball, roll it through your sprinkle mix.
You'll have to do this while the popcorn balls are still warm; otherwise, the sprinkles won't stick well. Once they've been rolled, press them into a ball again to help the sprinkles stick.
Time for the finishing touches! Push a paper straw into your balls – you can be economical and use one straw cut into two rather than one per ball. Lastly, add some kooky candy eyes to the popcorn balls for added spookiness.
Why we like this one: They're super fun to make and look extra cute.
Variations: You can change up the coloring and straw colors. You could go for blue to give it a more Monsters Inc. feel.
Vampire Popcorn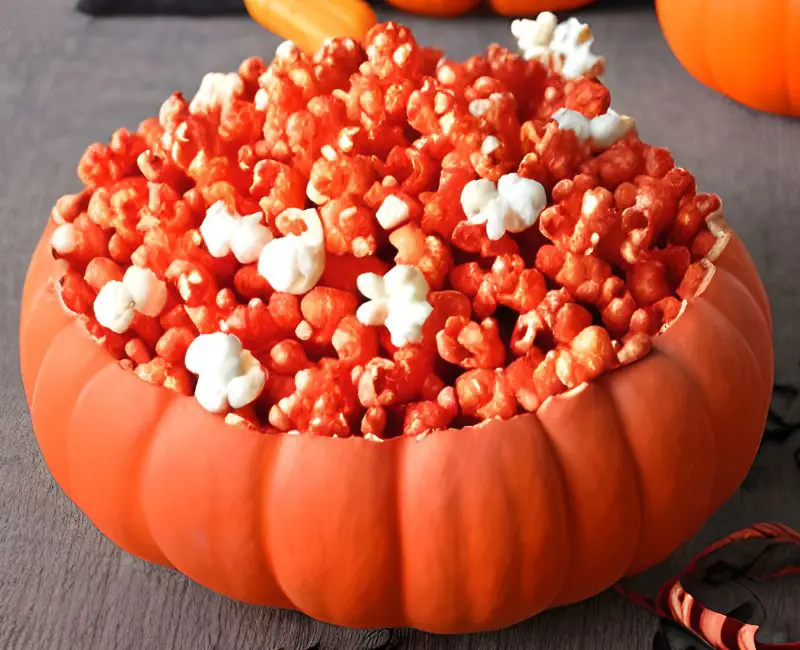 Not for the faint-hearted, this bloody popcorn recipe with bones from Finding Zest is certainly gruesome! With fake blood and little candy bones, you may just have to close your eyes to give this one a try!
What you'll need:
Bones sprinkles like these from Wilton
1 packet red JELL-O (raspberry, strawberry, or cherry flavor)
1/4 cup butter
1/2 cup packed light brown sugar
3 tablespoons light corn syrup
9 cups popped popcorn
Once you've popped your popcorn, you need to start making the fake blood. This bit's a little tricky and the tip is to keep it moving!
Preheat the oven to 300°F. In a saucepan, melt together the corn syrup and butter. Make sure it's on low heat. Add the gelatin and brown sugar, stirring it continuously until it dissolves. Bring it to a boil before simmering on low heat for 5 minutes. Keep stirring!
Next, pour it over your popcorn immediately after taking it off the heat. Toss the popcorn through it – it'll start to set quickly! Once coated, spread the bloody popcorn over a baking sheet, separating it evenly (using two forks is a good idea).
Now, bake it in the oven for 10 minutes. Once it's out, sprinkle on the candy bones, gently pressing them into the popcorn using a fork. Leave it to cool. If needed, you can break it up into smaller pieces.
Why we like this one: It's not often you see something that looks like it really is covered in blood!
Variations: You could use eyeball candies if you can't find candy bones.Spooky Ways to Serve Your Halloween Popcorn
Spooky Ways to Serve Your Halloween Popcorn
With three spooky popcorn treats above, let's look at some fang-tastic ways of serving popcorn for Halloween.
Ghoulish Ghost Gloves
If you have a supply of clear, disposable gloves to hand (pardon the pun!), they are a great way to serve popcorn in handy little bags over Halloween.
They even make a great low-cost gift for trick-or-treaters! Take a look here at Kid Friendly Things to Do.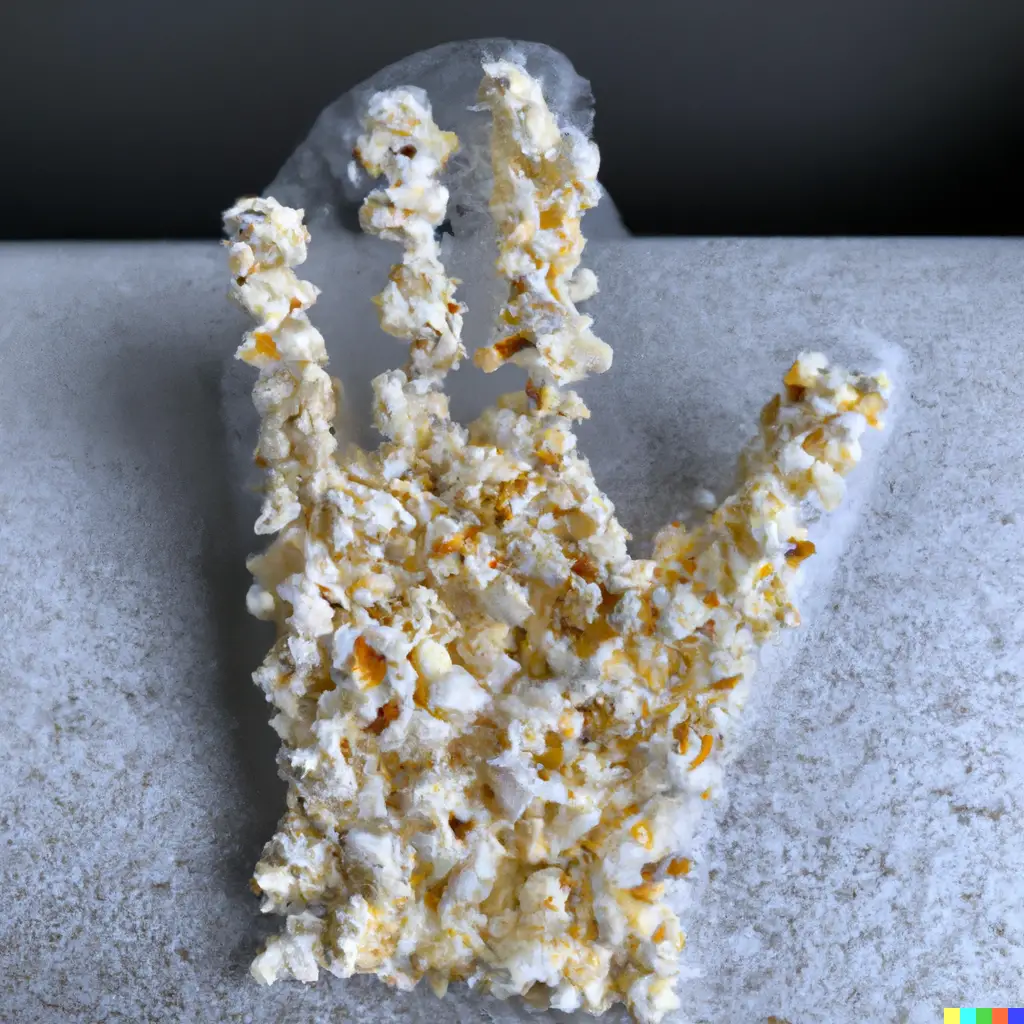 What you'll need:
Popped Popcorn
A Sharpie
Disposable gloves
Twist ties
Black yarn or ribbon if desired
Turn your glove so the fingers point down and draw a ghostly face with the Sharpie. Next, fill the glove with popcorn and secure the top with a twist tie. Then, if you wish, use black ribbon or yarn to tie it off and make it look that little bit extra special.
Googly Popcorn Cups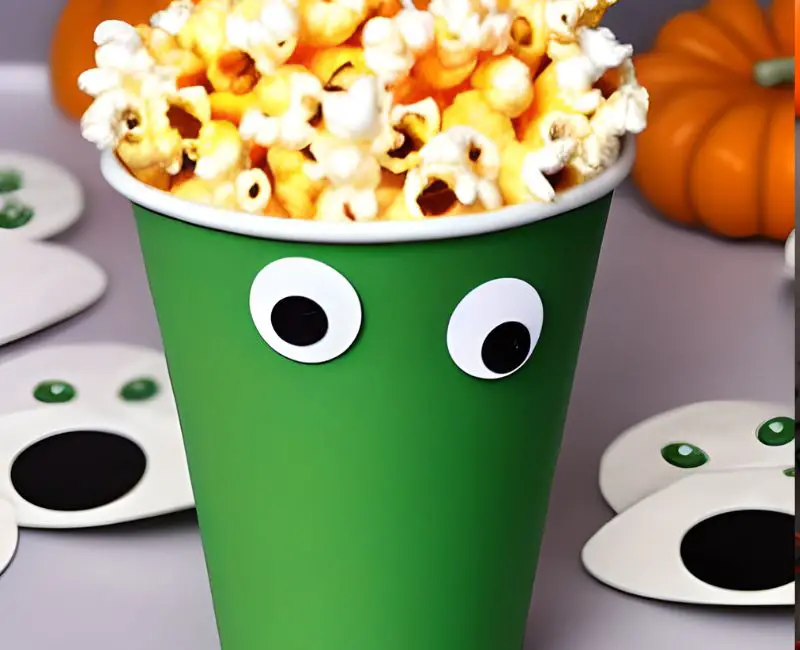 This one is so simple! It's a cheap and cheerful way of serving your Halloween popcorn in individual portions (or should that be potions?), as seen here on This Ole Mom.
What you'll need:
Popcorn (you can use colored popcorn to make it extra spooky!)
Googly eyes
Colored paper cups (neon green, orange, purple, or black make good choices).
Craft glue
Simply glue a pair (or more?) of googly eyes onto the side of your paper cup, add in your popcorn, and voilà! A simple, easy way of serving your Halloween popcorn.
Popcorn Cauldrons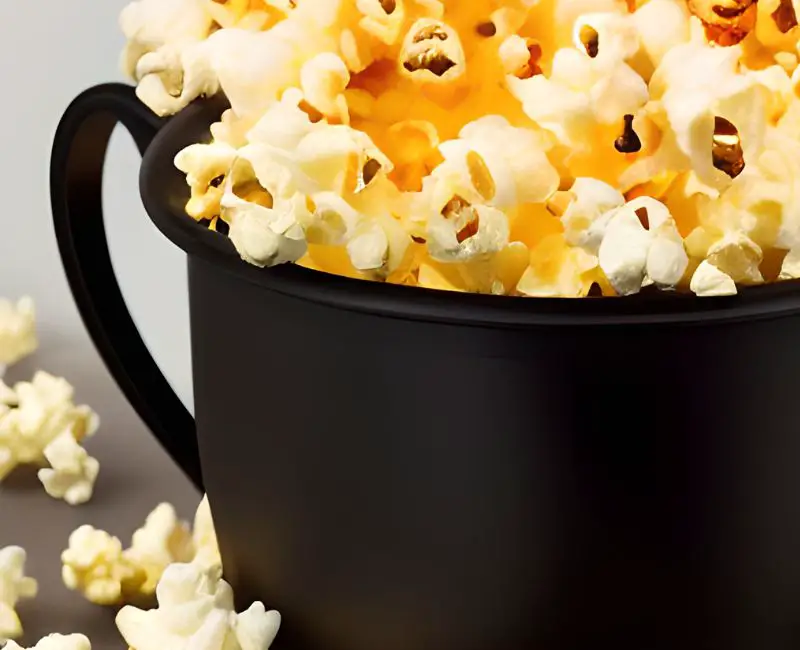 Nothing says 'Halloween' more than a witch's cauldron. These cute little cauldrons can be bought from craft stores and are a kooky way of serving up your fave Halloween popcorn treat! There are also pumpkin lantern-shaped ones too!
Final Thoughts
From blood and gore popcorn to cute cauldrons, with our six spooky Halloween popcorn ideas, you're sure in for a treat. Or should that be a trick?
Next, check out these crazy popcorn recipes.
Sources
https://recipesfromapantry.com/halloween-popcorn/
https://www.hunnyimhomediy.com/
https://www.findingzest.com/
https://kidfriendlythingstodo.com/
https://www.thisolemom.com/