When you're almost ready to pop, what better way to mark the occasion than with popcorn and have a baby shower with a difference! Let's take a look at some awesome baby shower popcorn ideas!
Baby Shower Traditions
Americans have been having baby showers for decades, with the current traditions of showering mom-to-be with gifts originating from the post-WWII baby boom. Today's showers are now sometimes less about what's needed, and more about having fun with mom before her baby arrives. And what better way to add to that fun than with popcorn?
Pink or Blue Popcorn
The mom-to-be has tasked you with organizing her baby shower. You're popping with excitement. Whether mom knows the sex of her baby or not, you can make pink, blue, or both colors!
Let's take a look at how to make it! You'll need:
Popcorn – unsalted and unbuttered popped corn is best. You can make it however you like, but it will likely taste better if popped in an air popper or on the stove. Once it's popped, removed any unpopped kernels.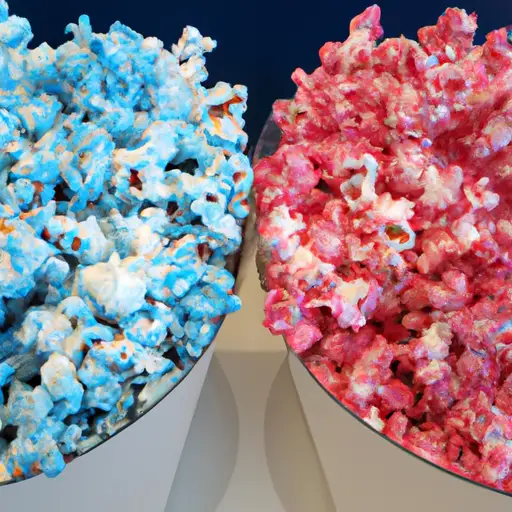 Sugar – simple, granulated sugar.
Butter – we used salted butter.
Vanilla extract – you could experiment with other flavors – peppermint extract with the blue popcorn might be nice!
Pink and/or blue food coloring.
To make pink or blue popcorn, you'll need to combine the sugar, butter, food coloring and any flavoring with a little water and bring it to the boil. You don't need to worry about a candy thermometer for this recipe.
When it's all dissolved and smooth, simply pour the mixture over the popcorn and give it a good stir.
Next, you need to let it dry properly. Spread the coated popcorn out into a single layer on a baking sheet or some baking parchment and leave it to dry.
Once it's dry, you can do what you want with it! You could put it in pink or blue bowls, make popcorn baby shower garlands, add it to baby shower party favors or simply dive right in and enjoy it!
Pink and Blue White Chocolate Popcorn Balls
These popcorn balls are to die for! You'll need:
White chocolate
Pink and blue sprinkles
Mini marshmallows
Plain popcorn
Butter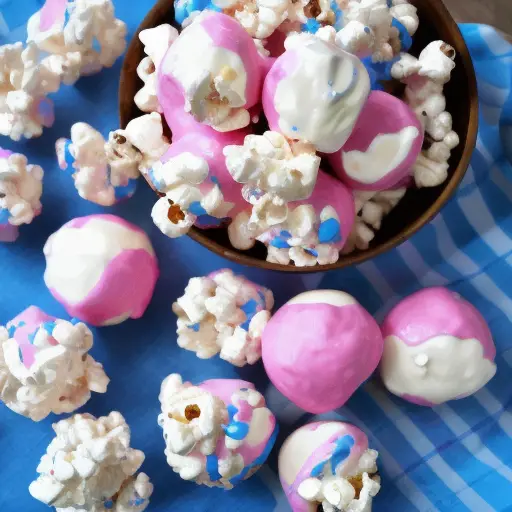 To make these balls, melt some butter and marshmallows in a pan on the stove. Next, melt some white chocolate. Add some pink or blue dye to your chocolate. Alternatively, you could use pink or blue candy melts for this step.
Place your popcorn in a large bowl. Pour the marshmallow and butter mixture all over the popcorn and stir well.
Next, shape the popcorn into balls before it goes too sticky and hard as the mixture cools. Once the balls are ready, dip them into the melted chocolate. You can then dip the balls into sprinkles if you wish to add extra pink or blue!
Push a straw into the ball to create a pink or blue popcorn chocolate lollipop! As a finishing touch, spray a little edible glitter on and tie a pink or blue ribbon around the straw.
These treats look so good and really stand out from your usual baby shower nibbles – you'll be the envy of all the other mamas!
Check this article next for more popcorn party ideas.
Gourmet Popcorn Bar
With a selection of toppings, why not have your baby shower guests make up their own popcorn treats? Make up some blue, pink and yellow popcorn and place it in three large bowls for guests to help themselves before choosing a selection of toppings and added extras.
You could offer a range of toppings:
Blue and pink candies – you can even find pacifier-shaped candies, but pink or blue M&Ms will do!
Blue and pink cotton candy
Marshmallows
Melted white chocolate (in pink and blue colors!) to drizzle on top
Nuts
Sprinkles
For more ideas for a popcorn bar check this article.
Popcorn Party Favors
Any good baby shower makes mom-to-be's guests feel good and offers a token gift for guests to enjoy as they leave. The popcorn possibilities are endless when it comes to party favors!
Cellophane bags and cones are easy and cheap to get hold of. Simply fill your bag with your chosen popcorn (blue, pink, or plain!) and tie with a pink or blue ribbon. You could also add a sticker saying "Ready to Pop!" for added effect.
If you're a little more environmentally conscious, try switching the cellophane for pink or blue paper bags or cardboard, cinema-style boxes.
Popcorn Cotton Candy Hot Air Balloons
Nothing says "baby shower" like pink or blue, right? Popcorn is not the only thing that comes in these two colors. Cotton candy is ideal when the theme is pink or blue! So, why not use it with your popcorn?
The idea here is that your pink or blue cotton candy is the hot air balloon to your popcorn basket. Let's go through the steps.
Make up some popcorn. This can be any type – plain, sweet, salty, pink colored, blue colored – whatever appeals.
Open the paper bag or small confectionery box, ready to add popcorn.
Make up some cotton candy in pink or blue (you can buy it ready-made if you wish).
Put the cotton candy on a piece of dowel or a strong paper straw. Ideally, you can use two pieces. Make the pieces of dowel no wider apart than the size of your popcorn bag.
Place the pieces of dowelling down into your popcorn bag.
Surround your dowel or straws with the popcorn so that they stand up tall, holding up your cotton candy.
If you need to, you can manipulate the cotton candy so that it looks more balloon-shaped, but this is not necessary.
Sit back and watch as your baby shower guests marvel over your popcorn creations.
Why does Popcorn Make Such a Good Party Favor?
Popcorn makes a great option for baby showers for several reasons:
It's delicious
It's versatile
It's cheap
We've looked at some delicious baby shower popcorn recipes and been creative with our baby shower popcorn presentation, but perhaps the best thing about popcorn as a party favor is that it is inexpensive. That means you can fill your baby shower guests with popcorn without worrying too much about the expense. And, if you run out on the day, you can easily pop some more in a few minutes.
Ready to Pop?
With five different ways of popping your baby shower popcorn, we're sure you'll find something to serve at your baby shower. Whether it's pink or blue, cotton candy or white chocolate and sprinkles, there's nothing quite as versatile as popping some corn for your shower. Let's hope the popcorn pops before you do!
Next, check out how to start a popcorn business.
Sources
https://americanasteeples.com/baby-shower-traditions/
https://nikkispopcorn.com/products/oh-baby-pacifier-candies-1-2-lb
https://www.candyclub.com/blog/cotton-candy-recipe/