Want some heart-popping Valentine's Popcorn ideas? Look no further; we've got it all covered! From recipe ideas, serving suggestions, and pop-corny Valentine's Day greetings, there's sure to be something for everyone. Whether you're loved up or want to spend V-day watching rom-coms with your girlfriends, read on and find some deliciously sweet Valentine's Popcorn Ideas.
Valentine's Popcorn Recipes
We've got a popcorn recipe to suit all your Valentine's tastes! Whether you love sickly sweet flavors, quirky shapes or healthy popcorn ideas, these recipes will certainly get your heart racing ahead of Valentine's Day.
Marshmallow Valentine's Popcorn
This recipe has it all: marshmallows, hearts and sprinkles. There's nothing that says 'Valentine's' more than this combination!
Ingredients:
3 cups of mini marshmallows
3 tablespoons of Butter
Heart/Valentine sprinkles
10 cups of Popcorn
Salt
Pink/red candies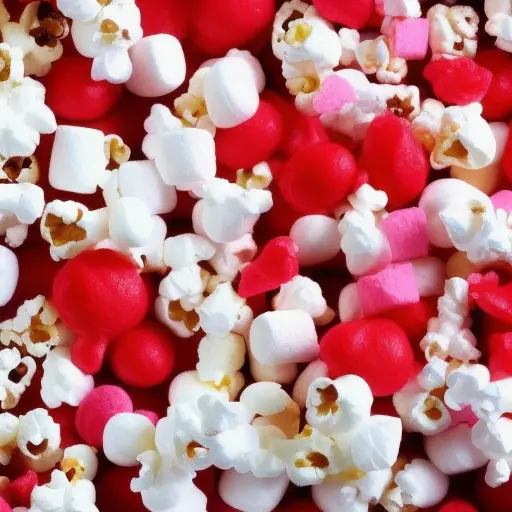 How to make:
Pop your popcorn and remove any unpopped kernels (you don't want your Valentine's sweetheart to break a tooth!).
Salt the popcorn – it'll add contrast to your sweet marshmallow coating.
Prepare the marshmallow mixture by melting the butter in a saucepan.
Next, melt in your mini marshmallows.
Once it's fully melted, take the mixture off the heat.
Pour approximately one third of the marshmallow and butter mixture over the popcorn. Fold all the popcorn into the mixture and gradually add a little more each time, stirring after every pour of the mixture so that it is evenly coated.
Put the popcorn into a single layer on parchment paper or a baking sheet and spread it out.
Before the mixture sets over the popcorn, add your Valentine's candies and sprinkles. Pink and red M&Ms are a good choice, as are confetti heart sprinkles and even more pink mini marshmallows.
Allow the mix to cool and then break it apart, ready to serve up or pop into little boxes or bags.
Confetti White Chocolate Popcorn
A little indulgent white chocolate recipe will certainly get hearts pumping this Valentine's Day. Here's what you'll need: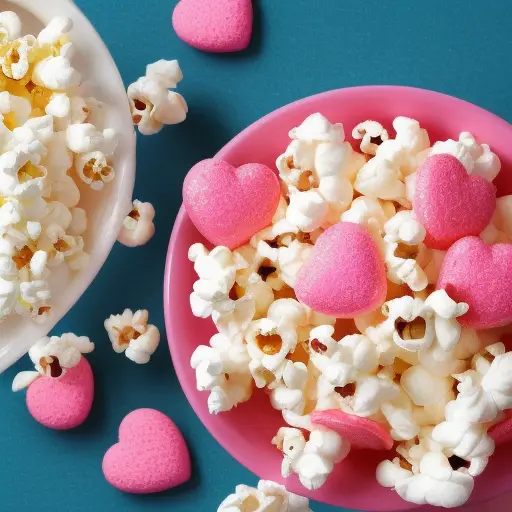 How to make:
Pop your popcorn and salt it to your taste. This recipe's sweet, so the salt will give it some depth. Remove any unpopped kernels too.
Melt the white chocolate in a bain marie or in the microwave gently until it is completely melted. Stir.
Place popped popcorn in a large bowl and pour the white chocolate over it.
Using a spoon, stir the popcorn until it is coated evenly with the white chocolate.
Once coated, spread the popcorn out over a baking sheet. You might want to cover the sheet with baking paper so that it doesn't stick.
Sprinkle over your love heart Valentine's sprinkles.
Leave to cool for about 10 minutes until the chocolate is firm.
Break up any large pieces and package up or serve!
Healthy Valentine's Popcorn
If you're on a bit of a health kick and the sweet and sugary Valentine's popcorn ideas above are just not going to suit you this year, why not try this healthier Valentine's popcorn suggestion?
Ingredients:
3-4 cups of popcorn
1 cup of red veggie sticks (or heart-shaped ones if you can find them!).
¾ cup of freeze-dried strawberries.
½ cup chocolate cookie crips or a cereal like Chex cereal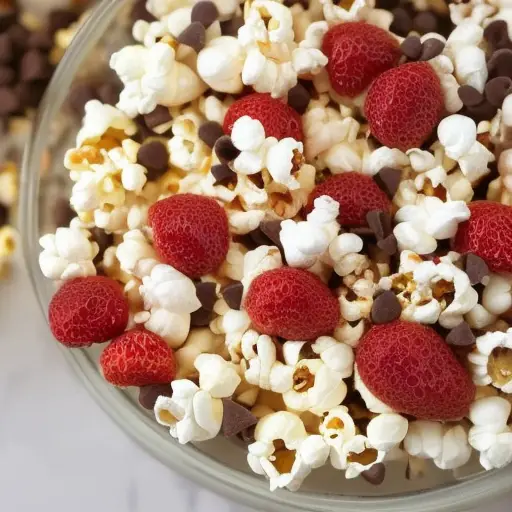 How to make:
This recipe is simple! You simply add all the ingredients together in a bowl and mix them up a bit! It'll be ready in next to no time. If you want to Valentine's Vamp it up a bit, try one of our serving suggestions below!
Cupid's Popcorn Heart
If you're looking for something a little different, why not give this recipe a go? It's a show-stopper for sure.
Ingredients:
5-6 cups of popcorn
½ cup of butter
1 bag of mini marshmallows
1 teaspoon vanilla
2-3 drops of red food coloring
Valentine's sprinkles
¼ cup of desiccated coconut
¼ teaspoon of salt (optional, if you like your popcorn salty)
How to Make:
Pop your bag of popcorn in the microwave or air popper. Remove any unpopped kernels.
Put the popcorn in a large, greased dish and sprinkle with the coconut and sprinkles. Give it a mix.
On your stove, melt the butter and the marshmallows and keep stirring. When melted, take it off the heat and add your vanilla.
Add the food coloring to your desired color (we opted for less is more to make a pink rather than a red color).
Pour the marshmallow mixture over the popcorn and mix together. It'll be hot, so use a spoon for this until it's cooled a bit.
Lightly grease the silicon baking mold.
Press the cooled mixture with your hands into your silicon baking mold. Make sure you press it down and get it right into the edges.
When it has set, gently tease out the popcorn, making sure it stays in shape.
You'll now have a large Valentine's popcorn heart that you can break up and share with your other half! (Let's hope that's the only heart that breaks this Valentine's!)
Check out more popcorn recipe ideas here.
Easy Pink Popcorn
This easy popcorn recipe looks amazing yet takes next to no time. It's ideal as a party favor or to take to school for the kids' Valentine's Disco.
Ingredients:
Plain or lightly salted popcorn,
Pink candy melts
Mini marshmallows
Pink sprinkles
Vegetable oil (4 teaspoons)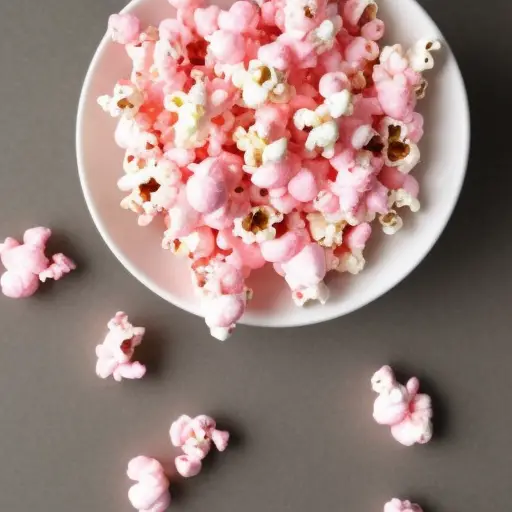 How to make:
Melt the candy melts in the microwave. Add the vegetable oil and stir. This makes it easy to drizzle.
Drizzle some of the mixture onto a baking sheet that's been covered in foil or parchment.
Place the popcorn on top of the candy melt drizzle. Press it lightly to make it stick.
Sprinkle the marshmallows on top of the popcorn evenly.
Pour the remaining melted candy melts over the top and then sprinkle on the sprinkles before it sets.
Let it set and dry until the candy melt has hardened.
Scoop it all up into a bowl, gathering up the candy from the bottom too.
Enjoy! It's so simple yet really effective. Why not serve it up in one of our Valentine's Popcorn serving ideas below?
Valentine's Popcorn Serving Suggestions
So, you've gone all out and made some Valentine's Popcorn. Now you need to serve it so it looks the part. You've got plenty of options, but here are a few of our favorites.
Pink Mini Candy-Striped Popcorn Boxes
Your Valentine will be sure to love their popcorn served cinema-style in these cute little serving boxes! Check them out here! You can even jazz them up with one of our suggested Valentine's popcorn greetings below.
Pink Golden Apple Plastic Cups with Domed Lids
These cute little cups work well to show off your Valentine's popcorn and are great for party favors!
They can be lined with paper for that extra flourish and with 25 in a pack, they are perfect for Valentine's parties.
Valentine's Heart Popcorn Boxes
Valentine's Cellophane and Ribbon Popcorn bags
Check out these sweet little bags, all ready and waiting to be filled with your Valentine's Popcorn. The little drawstring ribbon tie will keep your popcorn fresh until you're ready to eat it.
Because it's opaque, you can even keep your Valentine's popcorn treat a surprise from your loved one until they open it and see it in all its glory.
A Bucketful of LOVE(ly popcorn!)
These gorgeous little mini buckets are just waiting to be filled with your delicious Valentine's Popcorn.
They will stand the test of time and can be used every Valentine's Day, so they're an environmentally friendly option too.
Pink Heart Bamboo Bowls
These four bamboo pink heart-shaped bowls have a large capacity (33 oz.) so you can fill them with lots of your yummy Valentine's Day popcorn ready or some Netflix and Chill with your other half.
Given there are four bowls in this set, there are enough if you decided to make your Valentine's Day a double date (or if you had your fellow single friends come over!).
You'll love these popcorn party ideas.
Valentine's Pop-corny Greetings
For our last idea, you might want to add a finishing touch to your Valentine's Popcorn. If you're popping your Valentine's popcorn into an individual serving, such as in a decorated paper cup, paper cone, paper candy bag or box, no matter which you choose, you can vamp it up with some creative Valentine's stickers and slogans:
You make my heart pop!
Popping in to say Happy Valentine's Day
I hope your Valentine's Day really pops!
Just Popping in to say no one is Butter than you!
So happy you POPPED into my life!
I wanted to pop the question…. Will you be mine this Valentine's Day?
I've put the POP in CORNY Valentine's greetings this year!
We go together like popcorn and candy.
Whatever you choose, corny or sweet, you're sure to get your loved one's heart racing a little!
Final Thoughts on Valentine's Day Popcorn Ideas
From the recipes right through to serving with added pop-corny sayings, our 12 Valentine's Popcorn ideas will be sure to help you on your way to creating indulgent and romantic popcorn this Valentine's Day.