Gift-giving is a big deal in the US. Whether it's finding the perfect gift for a special birthday, Christmas, or to show someone you're thinking of them, it can be a time-consuming and costly task.
Popcorn gift baskets are the perfect solution as they're easy to make, can be completely personalized, and cost as much or as little as you like.
Here are our best popcorn gift basket ideas that we're sure you'll love.
Perfect Popcorn Basket Ideas
Movie-lover popcorn basket
Popcorn and movies go together like salt and pepper. People love movie-theater popcorn so much that they even try to recreate it at home.
A movie-lover popcorn basket should contain popcorn kernels, flavacol, oil, popcorn bags or boxes, sweets, and something relating to a movie. Depending on how much you want to spend, you could add a cinema voucher, DVD, or subscription to a streaming service.
Child-friendly Popcorn basket
Children can safely eat popcorn from the age of four. A popcorn gift basket for a child should be fun, colorful, and eye-catching. Most kids will want to dive straight into the popcorn, so opt for ready-popped popcorn rather than kernels.
Rainbow-colored popcorn is sure to be a hit. We suggest adding a few bags of colorful candy with the popcorn so that the child can mix the two.
Popcorn basket for the sweet-toothed
Most popcorn fans are either sweet popcorn or salty popcorn lovers. Someone with a sweet tooth will adore a popcorn basket that contains kernels, oil, and lots of sweet toppings. Some great sweet toppings to consider are:
Caramel
Chocolate
Marshmallows
Corn syrup
Fudge
Peanut butter
Dried fruit
Candy
Gingerbread
Sugar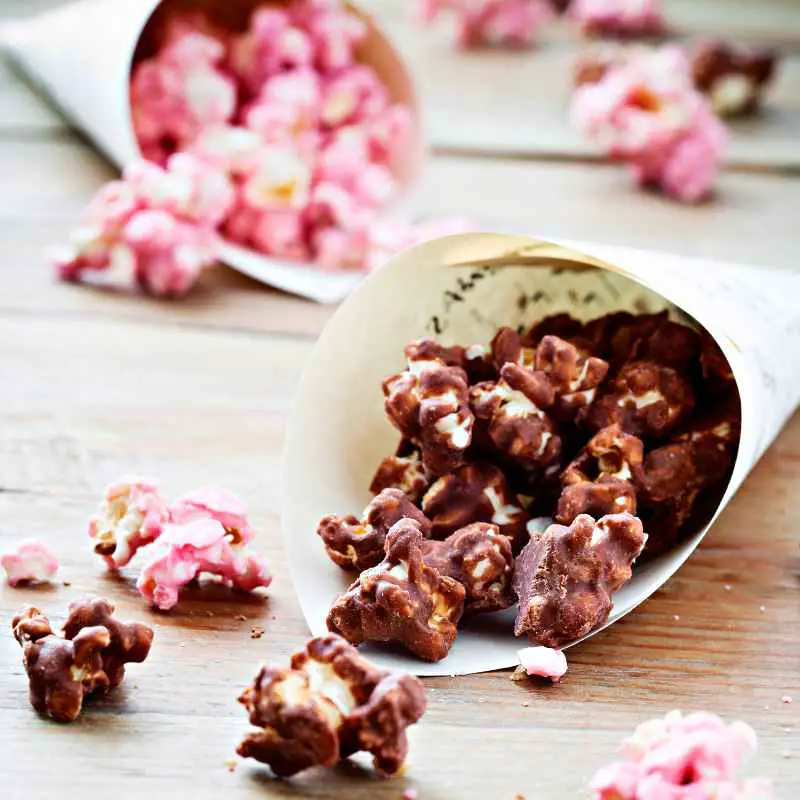 Christmas popcorn basket
Popcorn is a Christmas tradition as it's often strung to make festive garlands. We love the idea of making a Christmas popcorn basket that includes everything the recipient needs to make a garland.
Alongside the popcorn, string, needle, and dried cranberries, you could include an instruction card to help them get started. Throw in extra popcorn and some festive toppings (gingerbread, candy canes, and cinnamon) so they can munch away while they're being creative.
Snack-lovers popcorn basket
Americans love to snack. Rather than making a popcorn basket that's just made up of popcorn, add your loved one's favorite snacks in it too. Some of the nation's most popular snacks include M&Ms, Hershey's Bars, Oreos, and Pringles.
Mini popcorn basket
A popcorn basket doesn't have to be big and lavish to make an impressive gift. A small basket filled with different flavored single-serving packs of popcorn makes a lovely present.
Popcorn toppings basket
Does the person you're buying for love to try lots of new toppings on their popcorn? If so, a popcorn topping basket is the way to go. Fill it with as many different toppings as you think they'll like.
Traditional popcorn toppings will always go down well, but throw in a few crazy ones as well to see how they go down. Some people say that hot chocolate makes a great popcorn dip while others like to cover theirs in jello.
Gourmet popcorn basket
Gifting a gourmet popcorn basket will make your loved one feel special. Gourmet popcorn typically comes in small boxes or bags and is made using the finest ingredients. Unique and delicious flavors are usually added too.
Double cheese, strawberries and cream, mint choc chip, and apple and cinnamon are just a few flavors you'll come across.
Mega popcorn basket
If you've got the cash to spare, why not make up a mega popcorn basket? The first thing to include is a popcorn maker. An air popper or microwavable popper will go down well. Then, fill the basket with a large bag or two of popcorn kernels, all the seasonings, flavorings, and toppings you can think of, and boxes or bags to eat out of.
You could even add a popcorn tin so that the person you give this gift to can keep their popcorn fresher for longer.
Traditional popcorn basket
Stovetop popcorn is the traditional way of making popcorn. You could even use a popcorn stove pot as your basket and fill it with everything needed to rustle up some traditional popcorn. Popcorn kernels, oil, salt, and a traditional serving bowl are essential.
How Do You Make a Popcorn Gift Basket?
Making a popcorn gift basket is easy. Here's what you need to do:
Get a basket that's big enough to fit everything in. Wicker baskets work well. Or, you could use an extra large popcorn tub.
Fill the bottom of the basket up with filler. This could be shredded tissue paper, wood wool, shredded paper, or large confetti.
Then you can start filling the basket. Put bigger, bulkier items at the back, such as a tub of popcorn kernels, and smaller items, such as seasonings, at the front.
Wrap the popcorn basket up with cellophane and finish with a bow.
What to Put in a Popcorn Gift Basket?
As you can see from our popcorn gift basket ideas, nothing's off-limits. You can put anything related to popcorn in a gift basket.
Small items, such as a salt shaker, gourmet seasonings, and popcorn bags work just as well as larger items.
If you're still after some ideas for what to put in your popcorn gift basket, here are a few ideas:
Personalized popcorn bucket
Homemade seasoning
Bag sealing clip for any unfinished popcorn
Jar of luxurious sea salt
Anyone would be lucky to receive a popcorn gift basket. So, the next time you've got a special person to buy a gift for, why not create a personalized, handmade popcorn basket just for them?
Sources
https://www.faithfullyglutenfree.com/jello-popcorn
https://www.corelanguages.com/blog/english/american-gift-giving-culture